Nary is there an existing foodstuff with the melting properties of Velveeta. The delicious, intriguingly smooth processed cheese is a queso staple, a dip desideratum. But that's not all -- it's also pretty good in donuts. And because of that, here are 10 recipes that use the pasteurized product in ways few others have dared. Try 'em all! Except maybe the fudge one.
The egg is INSIDE the muffin!! Get the recipe.
Simply layer Velveeta cheese slices with Pillsbury crescent dough and fry 'em up! Recipe here. 
 
Referring to a delicious, delicious Spam and processed cheese quiche as "redneck" is kind of diminishing, particularly because it's an excellent addition to any low-carb diet, as the author suggests. Recipe here!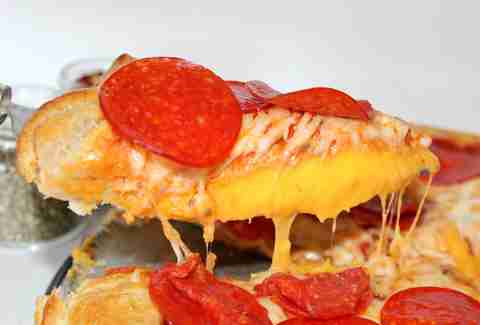 It's a grilled cheese, but it's also a pizza. But it's mostly a grilled cheese. The beauty is you don't have to choose. Recipe here. 
These are exactly what you think they are: Doritos-coated, deep-fried cheese balls. Here's the recipe!
 
It's here if you want it. 
Can't go wrong with layers of lasagna pasta, mashed potatoes, and pasteurized cheese product, probably. Recipe here.
There are all kinds of ways to interpret mac and cheese, but it's hard to compete with Velveeta's creaminess. Recipe here. 
 
The best use of cheddar cheese is to reinvent it with gelatin. Here's that recipe!
You need at least one dip... get it here.
Carrie Dennis is an associate editor for Thrillist and doesn't eat cheese unless it's been processed 3-7 times. Follow her on Twitter: @CarrrieDennnis.