11 Classic Slow-Cooker Stews to Warm Your Winter Heart
Did you guys know that the brand Crock-Pot is basically the Kleenex of slow cookers? Oh, oh you did. Yeah, same. Anyway, we're pretty keen on Crock cooking 'round here, and soup, generally, so here are 11 excellent stews and soups you should be heating up this winter. There's chunky beef stew and creamy crab chowder and very little work.
Campbell's is this soup's bi***. Top with pizza croutons or a grilled cheese -- a whole grilled cheese. Recipe here!

Use seasonal fresh corn in summer, or canned in winter. Recipe's right here.
Thickening the stew with dehydrated potato flakes is much easier than making a roux. Find the recipe here.

It's such a slow-cooker classic that we're offering you two options. In this one, the vegetables are cooked separately from the broth to keep them bright and shapely. Recipe is here!
The ultimate American comfort food is only about four to six hours away. And frozen peas and carrots make it even easier. Recipe here!

This soup would be delicious even without the fresh hit of creamy crema, but that's no reason to not bother making it. Here's the recipe.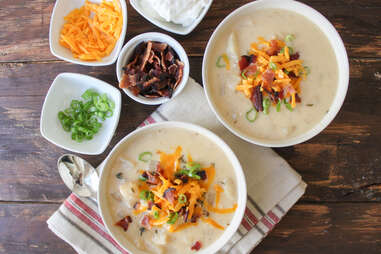 Thickened with mashed potatoes rather than a ton of dairy, this soup is surprisingly light, at least for something that contains a cup of heavy cream, shredded cheddar, and bacon. Get the recipe!

Purists are separated into two ball camps: "floaters" and "sinkers." Recipe here.

Cup Noodles < eight-hour shiitake ginger-infused chicken broth.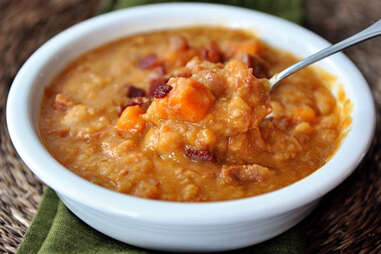 Bacon is also included, because nothing is as homey and comforting as a rustic soup with two kinds of pork products. Is this what you're looking for?

Perfect for the person who knows they're going to be sick in eight hours. Recipe here!
Carrie Dennis is an associate editor for Thrillist and still appreciates packaged ramen noodle soup occasionally. Smell what she's slow-cookin' on Twitter: @CarrrieDennnis.