11 Deliciously Ridiculous Ways to Eat Peanut Butter & Jelly
Though the traditional peanut butter & jelly sandwich undoubtedly holds a standing res in my belly, it's certainly not the only way I like to eat it. The salty-sweet combination of a PB&J inspires me endlessly, as it should you. And now trying something beyond the bread is as simple as these 11 suggestions. Peppered with potato chips, deep fried, or remixed into an unexpected popcorn topper -- you'll never look at this sandwich the same.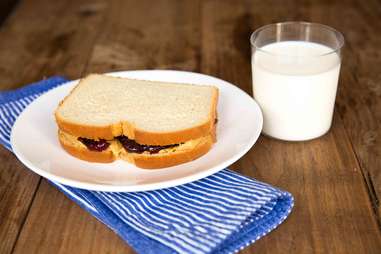 Traditional
This doesn't count as one of the 11, but it's the foundation they all descend from. The OG consists of creamy peanut butter (always creamy), concord grape jelly (always concord, always grape), and white sandwich bread (always white). Oh, and the glass of milk isn't optional.
Fried
Trim the edges off the bread. Add a dollop of peanut butter, a dollop of jelly, and fold the bread over the fillings into a ball. Drizzle a little milk over the ball -- that porous white bread will absorb the liquid and glue it all together. Fry in oil heated to 350℉ for 2 minutes.
Float
Scoop peanut butter ice cream into a chilled glass and top it off with grape soda.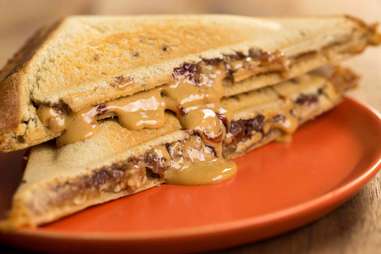 Grilled
This is my personal preference for PB&J, because gooey, melty peanut butter is unparalleled. Butter the bread then use a sandwich press (or any ole griddle) for maximum crust-age.
Ice cream sandwich
Two store-bought peanut butter cookies, one giant scoop of strawberry ice cream.
Waffle
Those crannies beg to be filled. I piped the peanut butter and jelly for the sake of styling, but I just slather globs all over my waffles when presentation doesn't count -- and presentation rarely counts.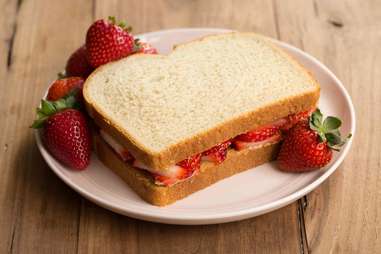 Fresh
Fresh berries give your teeth something to sink into, plus, you can convince yourself that it's healthy!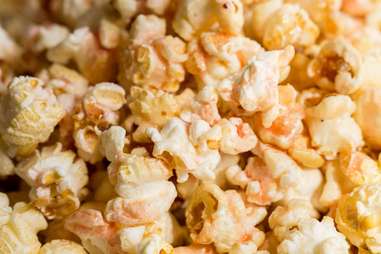 Popcorn
Melt equal amounts of salted butter and strawberry jelly and whisk to combine. Drizzle it over freshly popped corn and sprinkle with (trust me on this one) powdered peanut butter. It's peanut butter that's been dehydrated into a fine powder that you can dust on anything for concentrated peanut butter flavor.
Triple decker
One sandwich sometimes isn't enough, but double fisting just looks silly. Get two in one by stacking your PB&J. It goes, bread, jelly, peanut butter, bread, peanut butter, jelly, bread.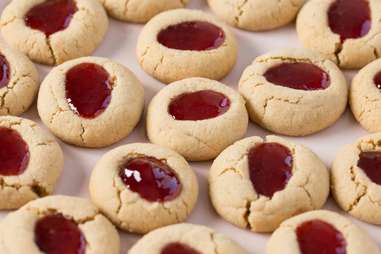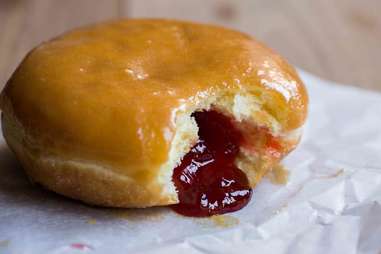 Donuts
Order up half a dozen jelly filled and make your own peanut butter glaze.
Combine 1/2 cup maple syrup and 1/4 cup creamy peanut butter in a small saucepan over medium heat. Stir until it's smooth and creamy. Remove from heat and dunk donuts into the glaze. Let excess drip off.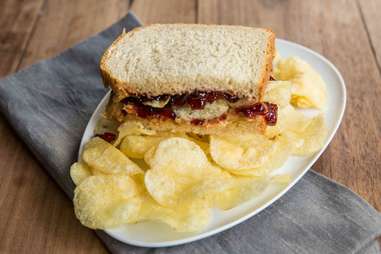 Potato chips
Salty potato chips in unexpected places is the move. They add an unexpected (and totally welcome) texture to brownies, grilled cheese, and, obviously, PB&J.
Sign up here for our daily Thrillist email, and get your fix of the best in food/drink/fun.
Perry Santanachote is Thrillist's Recipes Editor and wants to know how you like your peanut butter and jelly. Tweet her at @perrysant.