When you need to cook for a crowd, nothing's easier than a casserole. But, unfortunately, casseroles have a tendency to look (and taste!) pretty terrible. But not these 11 surefire dishes! We've separated the good from the totally inedible -- they look great, taste better, and even your pickiest friends will be coming back for seconds.
Layering slow-cooked sweet pork between tortillas, beans, and cheese sounds amazing on its own, but the cilantro-lime ranch dressing on top? We're sold -- here!
What you'll need:
Shredded sweet pork
Cilantro-lime ranch dressing
Flour tortillas
Black beans
Mexican blend cheese
This Middle Eastern-inspired dish is packed with spices, cheese, and veggies, plus it's topped with prosciutto. Make it here.
What you'll need: 
Wild rice
Harissa
Broccoli
Spinach
Gruyere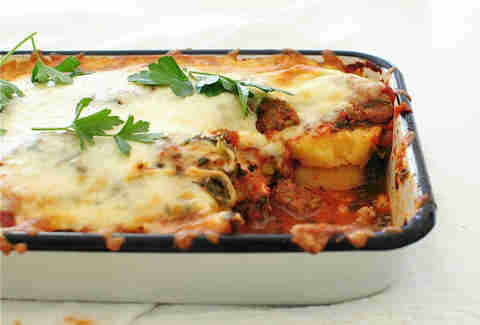 This genius casserole is juicy Italian sausage layered over thick medallions of polenta, then smothered in a sheet of mozzarella, so clearly you need this. Find it here.
What you'll need:
Italian sausage
Polenta
Frozen spinach
Marinara sauce
Mozzarella cheese
This badass dish is made in just 30 minutes and is covered in a massive sheet of cornbread, which is how every casserole should be topped. It's here!
What you'll need:
Chicken
Corn
Rotel diced tomatoes with green chilies
Taco seasoning
Cornbread mix
Handmade breadsticks are topped lattice-style over a meaty, pizza-style filling for a delicious (and pretty!) meal that's ready in <1 hour. Make it here!
What you'll need:
Zucchini
Diced tomatoes
Chicken or turkey sausages
Mozzarella cheese
Breadstick dough
When you're too lazy for the grill, this beefy casserole has you covered in just 20 minutes. Find it here.
What you'll need: 
Pasta
Ground beef
Tomatoes
Dijon mustard
Cheddar cheese
This modern meets classic casserole is ready in only an hour and brims with sweet-and-savory flavor. If you don't like apples, skip them and use extra ham instead! It's here.
What you'll need:
Whole-wheat penne
Ham
Apples
Fresh sage leaves
Cheddar cheese
This jam-packed casserole boasts everything from corn and bell peppers to refried beans, tortillas, and loooads of cheese. Recipe here!
What you'll need:
Peppers
Corn
Mexican cheese
Corn tortillas
Refried beans
This no-fuss recipe amps up quinoa with black beans, corn, cilantro, avocado, and a heaping pile of cheese. Recipe here.
What you'll need:
Quinoa
Corn
Black beans
Mozzarella and cheddar cheese
Avocado
Casseroles aren't just great for main dishes, they're perfect for sides, too. This recipe layers cheesy, buttery mashed potatoes over pasta, so you know it's a crowd-pleaser. Find it here!
What you'll need:
Potatoes
Onion
Cheese
Pasta
Butter
Classic cordon bleu (chicken stuffed with ham and cheese) is reinvented into a simple and delicious casserole topped with buttery Ritz crackers. Recipe here!
What you'll need:
Rice
Chicken
Ham
Cream of chicken soup
Cheddar and Swiss cheese
Christine Fischer is a freelance writer dedicated to a strict diet of Champagne, cookies, and the occasional pizza. Follow her on Facebook and Instagram.