12 Super-Simple Breakfast Casseroles That Don't Suck
Sometimes, you get invited to a potluck brunch, and there's really no saying no. Sure, you could bring a pre-made fruit platter or a bottle of Bloody Mary mix, but your apathy towards organized group breakfast will not go unnoticed. So when you're tasked with making brunch for a bunch, here are 12 seriously easy breakfast bake recipes to convince your friends you care.
Thrillist's own original recipes editor Perry Santanachote uses pancakes in lieu of noodles in this savory-sweet concoction. Recipe here.

This could not be easier -- layer all ingredients in one pan. Get the recipe!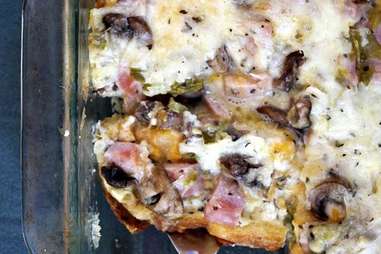 Prep the night before so it's ready for hoards of extended family in the morning. They deserve it, probably.

What this casserole lacks in carbs it makes up for in cheese. It's basically an eight-person spinach omelet. Find the recipe here!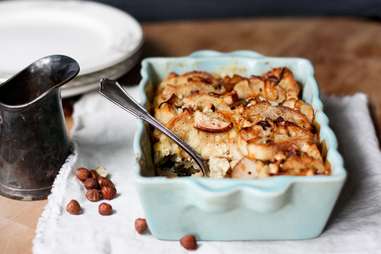 The caramelized pears and toasted hazelnut maple syrup completely elevate your tired old casserole. Recipe here!

If I didn't trust Deb Perelman from Smitten Kitchen so damn much, I would be seriously skeptical about this baked conglomeration of bagels, lox, Neufchâtel, and eggs. Here's the recipe.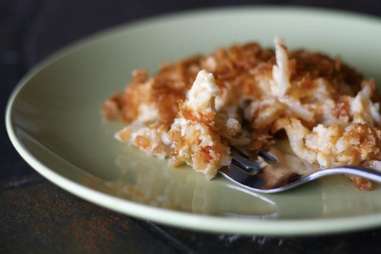 Since it's primarily frozen hash browns and four kinds of fat, this recipe is probably best served in tandem with eggs and other misc. brunch stuff. Recipe is here.

Keep this savory bread pudding simple with spinach and Gruyere. Make it the night before!
The recipe author swears the bread won't be soggy, which is a well-known barrier to entry into the brunch bake world. Recipe here.

One pound of maple pork sausage, white bread, cheddar cheese, whole milk -- Paula's still got it. Get that recipe!
Carrie Dennis is an associate editor for Thrillist and didn't eat eggs until she was 19. Follow her on Twitter: @CarrrieDennnis.