Potluck cookouts are one of the best parts of summer, especially when everyone fawns over your star dish and ignores Rick's sweaty processed cheese cubes. But your side doesn't have to be complicated or time-intensive to steal the show! Show your friends you care with one of these homemade side dishes that look like they take way more effort than they do. Fifteen minutes or less is all you need to upstage Rick. Hate that guy.
True to its name, this crazy-easy dish involves biscuits, blue cheese, and butter -- that's it! Pair it perfectly with steak or ribs. Find the recipe here!
Ramen... gone classy? It's possible when you toss it into a quick-fix salad topped with homemade sesame dressing. Here's the recipe!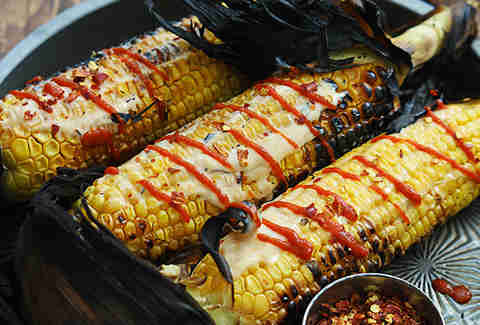 A potent mix of Sriracha, Dijon mustard, and mayo makes this creamy, spicy grilled corn a major winner. Find it here.
Grilled corn is always a good idea, especially when it's stirred into a cheesy, spicy, no-fuss dip. Eat it with chips or smear it over hot dogs right over here!
Caramelizing peaches sounds complicated, but all it takes is a little brown sugar, butter, and a few minutes in a skillet. Top it all off with a pinch of smoked sea salt. Make it here.
Go heavy on the feta with this classic, simple salad. Recipe here.
Throw this on burgers, pair it with veggies, or just use a damn spoon -- there's really no wrong way to eat it. Find it here!
The grilled corn cut off the cob adds some smoke to an otherwise super-fresh, Mexican-style salad. Click, click, click!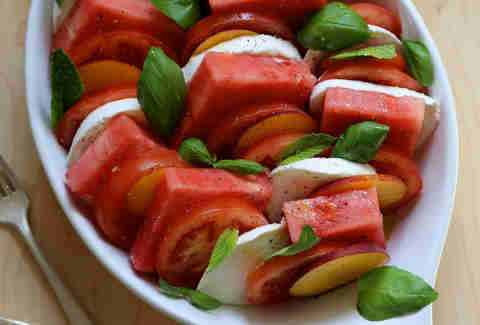 The sweet-fruit element is unexpected, but not unwelcome in this summer staple. Check it out here!
A mixture of veggies, fruit, cheese, and spice, this salad has a little something for everyone, and we dig it. You can dig it here!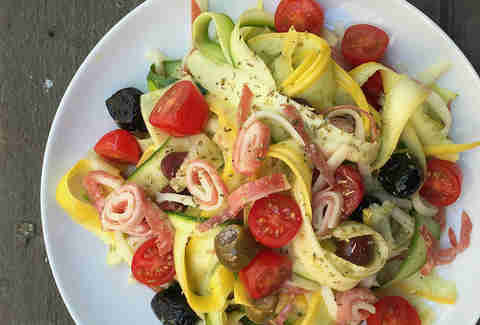 This easy veggie salad has chunks of provolone and salami, is tossed with Italian dressing, and looks way fancier than it is. Recipe here.
Why deny a classic? Recipe here!
Sign up here for our daily Thrillist email, and get your fix of the best in food/drink/fun.
Christine Fischer is a freelance writer dedicated to a strict diet of Champagne, cookies, and the occasional pizza. Follow her on Facebook and Instagram.