The 13 Best Watermelon Recipes to Make This Summer
Reaching its peak from May-August, now is the perfect time to experiment with unexpectedly versatile watermelon. So with that in mind, we've put together 13 deliciously creative ways to enjoy it. Whether you grill it, freeze it, or simply dice it up, recipes with this hydrating treat are guaranteed to brighten up any summer meal.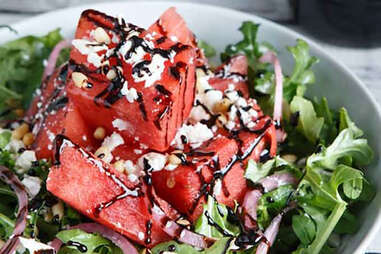 A simple balsamic reduction and drizzle of honey perfectly offset spicy arugula, and the fatty feta adds depth to an otherwise light salad. Recipe here.
Key ingredients:
Balsamic vinegar
Pine nuts
Arugula
Watermelon
Feta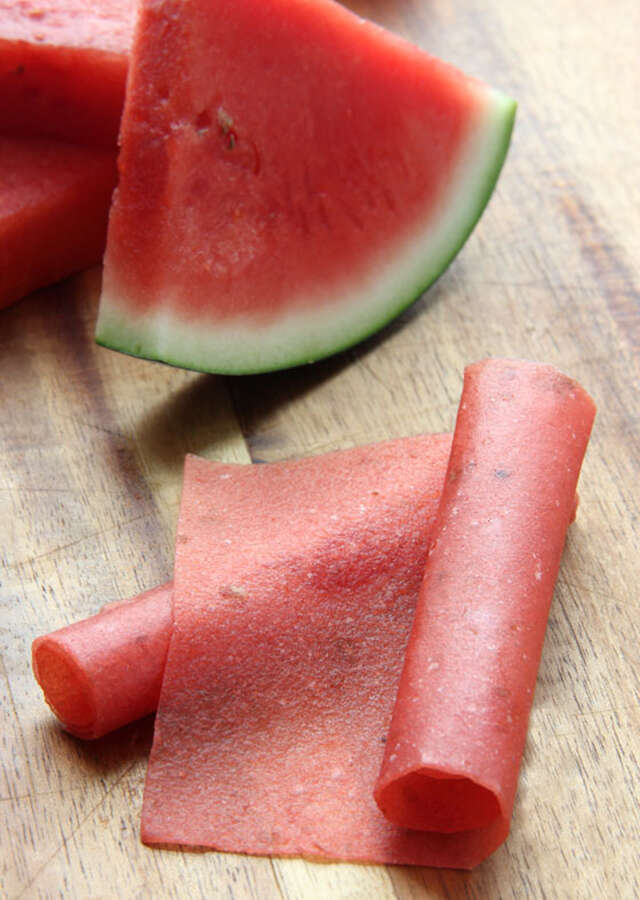 Fruit leather is the homemade version of Fruit Roll-Ups, but without all the dye. Relive your childhood and make this immediately. Roll it here!
Key ingredients:
Two of summer's best flavors come together in this five-minute dessert (not including freeze time) that anyone can master. Get the recipe.
Key ingredients:
Cubed watermelon
Raw honey
Lime juice
Coconut milk
Shredded coconut
Salty, spicy chorizo topped with a zesty watermelon salsa is offset by a drizzle of creamy avocado sauce for one seriously summery tostada. Recipe here.
Key Ingredients:
Chorizo
Tostada shells
Avocado
Watermelon
Tomatoes
This no-cook recipe threads chunks of watermelon and mozzarella between salty slices of prosciutto and fresh basil for an easy and light summer appetizer that you can make in mere minutes. Find it here!
Key ingredients:
Mozzarella balls
Watermelon
Cucumber
Prosciutto
Basil
Blend fresh watermelon into barbecue sauce for a truly unique, sweet-and-salty drumstick. Blue cheese cilantro dipping sauce is a no-brainer. Recipe here.
Key ingredients:
Chipotle peppers
Watermelon
Chicken drumsticks
Ketchup
Honey
Because all great salads have bacon. It's here!
Key ingredients:
Watermelon
Red onion
Feta cheese
Bacon
Mint
Tacos are great, sure, but the real star of this dish is the boozed-up watermelon salsa. Loaded with mangos, jalapeño, and a nice dose of tequila, it's got a lot going on, but it all comes together beautifully. Check it out here!
Key ingredients:
Watermelon
Tequila
Mango
Jalapeño
Mahi-mahi
Refresh the standard pork chop and fruit combo by swapping out tired old applesauce for a watermelon and feta pico. Find it here!
Key ingredients:
Pork tenderloin
Watermelon
Jalapeño
Lime juice
Feta
No blender is needed for this sweet-and-spicy summer cocktail. Shake it up here!
Key ingredients:
Jalapeño
White tequila
Watermelon
Lime juice
Triple sec
In this seasonal spin on the classic caprese, watermelon is brushed with olive oil and honey before being grilled to char-marked perfection. Recipe here!
Key ingredients:
Watermelon
Honey
Grape tomatoes
Mozzarella
Basil
This simple side combines honey-drizzled chunks of watermelon with feta, basil, and quinoa, making it the ideal dish for sweltering summer days. Make it here.
Key ingredients:
Quinoa
Watermelon
Feta
Honey
Basil
Layer watermelon and peaches between hunks of mozzarella and basil for a no-fuss summer treat that's bound to please. Ready in just 15 minutes. It's here!
Key Ingredients:
Watermelon
Tomatoes
Peaches
Buffalo mozzarella
Basil

Christine Fischer is a freelance writer dedicated to a strict diet of Champagne, cookies, and the occasional pizza. Follow her on Facebook and Instagram.