If the mention of canned fish gives you PTSD flashbacks to your third-grade lunch table when Jimmy would crack a can open, stir in globs of mayo, and coat the entire table in that very pungent odor, then we recommend you find Jimmy's mom and ask for an apology. But it's also time to revisit the canned fish aisle at the grocery store.
Aside from its health benefits (high in protein and omega-3 fatty acids) and price point (super cheap!), canned fish also tastes damn good -- and no, not just in casseroles. The strong taste of these little fish adds a ton of flavor to whatever you've got cooking. I like to think of it as salt... but with protein. Use sardines to flavor your butter, eat battered anchovies like fries, or whip salmon into a fluffy mousse. The possibilities really are endless. Just don't take a can onto a plane. That makes you the adult version of Jimmy.
Recommended Video
The Comeback on the Chesapeake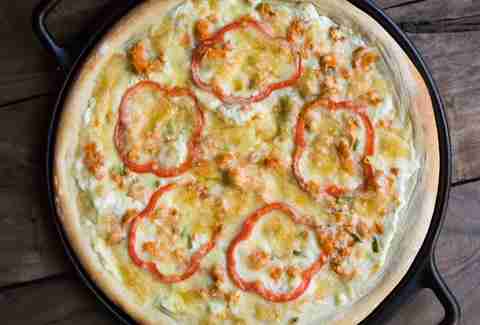 Salmon Pizza Recipe
Ingredients:
1 pound frozen pizza dough, thawed
4 ounces cream cheese, softened
⅓ cup crème fraîche
1 (6-ounce) can boneless, skinless wild Alaska salmon, drained
1 red bell pepper, sliced thin
4 green onions, chopped
2 cups shredded Monterey Jack cheese
Directions:
Preheat oven to 500°F. Stretch out dough into a 16-inch round and place on a pizza stone or ungreased baking sheet.
In a small bowl, combine cream cheese and crème fraîche until smooth. Spread evenly over crust. Top with remaining ingredients, arranging evenly over pizza.
Bake for 12 to 14 minutes or until cheese is bubbling.