The thick, creamy taste of Guinness lends itself to a variety of dishes both sweet and savory. Stout adds depth and the kind of pleasant flavor you can't quite put your finger on, no matter if it's chocolate cake or Irish beef stew.
You don't have to wait until St. Patrick's Day to give these recipes a go -- grab a six-pack and get cooking!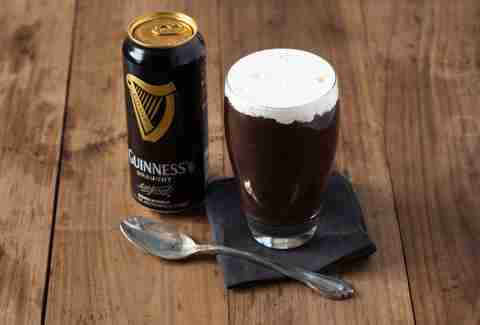 It looks like a Guinness and tastes like a Guinness, but the texture is considerably creamier. Top it off with Guinness whipped cream, of course. Get the recipe here.
Key ingredients:
Egg yolks
Sugar
Guinness
Heavy cream
Chocolate
This is just like the traditional black and tan drink -- half Guinness stout and half Harp lager -- except a whole lot chewier. Recipe here.
Key ingredients:
Butter
Chocolate
Eggs
Flour
Sugar
Irish car bomb float
No need for a link out here -- this one's all my own. Drop 2-3 scoops vanilla ice cream into a tall glass, add 1/2 shot whiskey, 1/2 shot Bailey's, and pour Guinness the rest of the way to the top.
Key ingredients:
Vanilla ice cream
Whiskey
Bailey's
Guinness
Reduce the Guinness into a syrup for a nice roasted flavor, then mix it with milk and chocolate. This recipe also adds Bailey's and Irish whiskey, in case the beer isn't boozy enough. But here's the recipe for this one!
KeyiIngredients:
Cocoa powder
Sugar
Whole milk
Milk chocolate
Bittersweet chocolate chips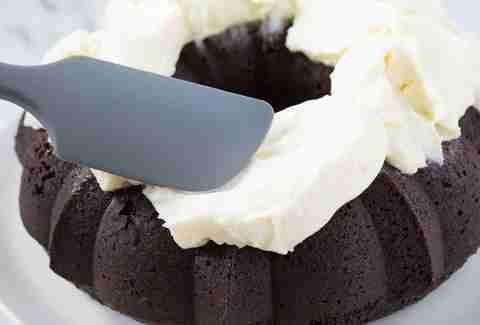 The classic cream soda is made with club soda, cream, and vanilla syrup. This boozy version uses vanilla and ginger liqueurs instead of syrup, and the creamy froth of Guinness stout instead of cream. Get the recipe here.
Key ingredients:
Ginger liqueur
Vanilla liqueur
Club soda
Guinness
Regular onion rings on their own are already pretty damn good, but a twirl of crisp bacon and rich stout batter take them past damn good to a version that requires stronger expletives. Recipe here!
Key ingredients:
Vidalia onions
Vegetable oil
Flour
Bacon
Queso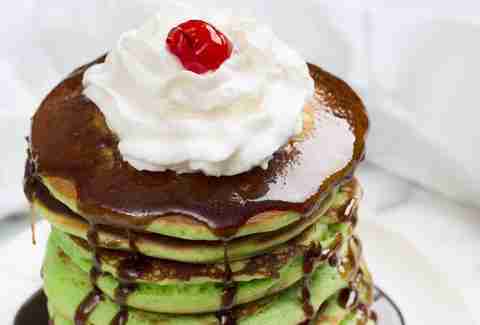 Whether you choose to pour this stout syrup over shamrock pancakes or regular pancakes or straight into your mouth, this complex, sugary sauce won't disappoint. Get that recipe.
Key ingredients: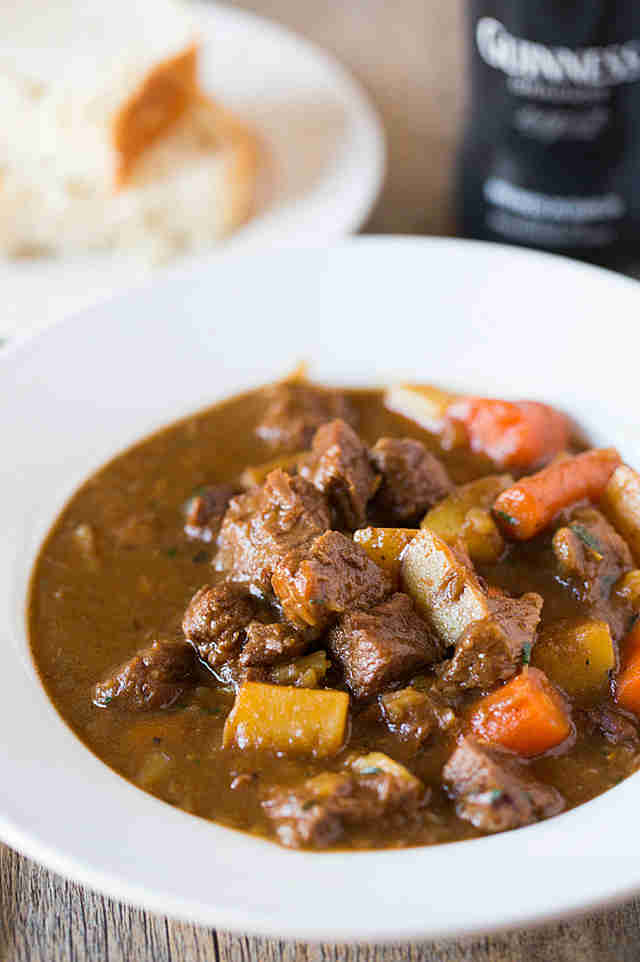 These three-ingredient breadsticks are crisp on the outside and chewy on the inside. Plus, no kneading! The dough's also great for pizza crust. Recipe here.
Key ingredients:
Self-rising flour
Guinness
Melted butter

Sign up here for our daily Thrillist email, and get your fix of the best in food/drink/fun.
Perry Santanachote is Thrillist's recipes editor. She sometimes wishes she had facial hair so she could sport a beer mustache. Tag your Guinness foods and 'staches @perrysant and make her jealous.