13 Utterly Genius Gourmet Sandwich Recipes
We're under no illusions here: we know a killer sandwich doesn't need a ton of ingredients or professional culinary skills. But, it doesn't hurt to jazz them up sometimes! All you need are classic flavors, creative interpretation, and expert execution, which are exactly what you'll find in these 13 next-level sandwich recipes. They're deceptively easy, ridiculously tasty, and a million times better than your average brown-bag lunch.
With hunks of sugary French toast, gooey globs of mozzarella, and extra-crispy bacon, this goes way beyond breakfast. Recipe here.
Key ingredients:
Large eggs
Milk
Sandwich bread
Bacon
Mozzarella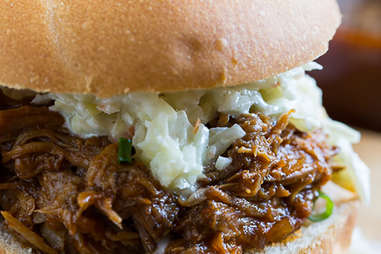 It might seem kind of weird, but the sweetness and distinct taste of the soda is just right with the other spicy elements. Recipe here.
Key ingredients:
Boneless pork shoulder
Dr Pepper
Dark brown sugar
Cayenne pepper
Worcestershire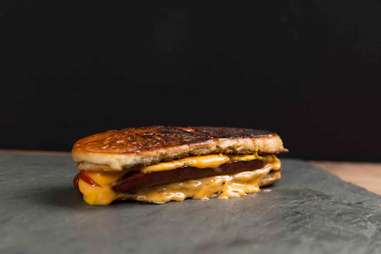 Thrillist's own recipes editor Perry Santanachote does not shy away from excess, or America, and finally answers that divisive question: yes, a hot dog is a sandwich.
Key ingredients:
Hot dog bun
American cheese
Hot dog
Butter
Smoked meatballs made of beef, pork, and bacon paste (sounds gross, is not) are stuffed into a sub and smothered with mozzarella and sauce before being broiled to melty perfection. Make it here!
Key ingredients:
Bacon
Ground beef
Ground pork
Sub roll
Mozzarella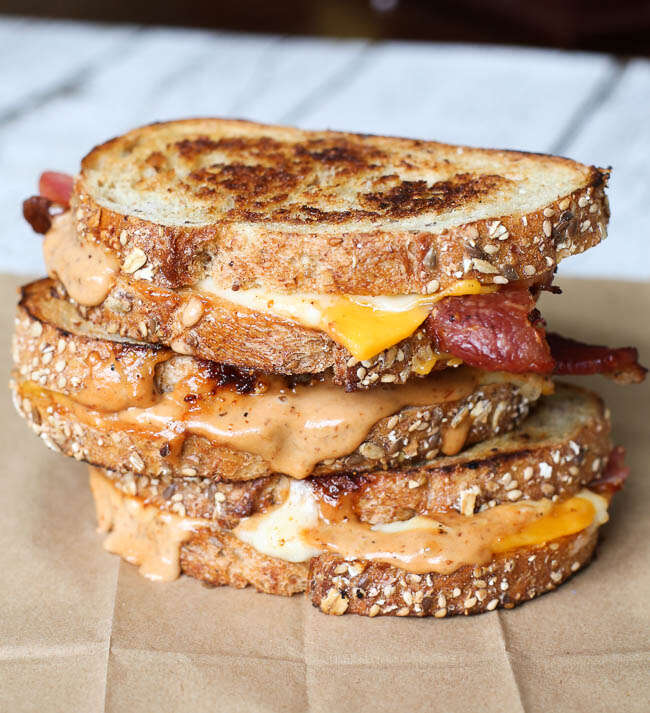 It's hard to beat a classic white bread/Kraft Singles grilled cheese, but mozzarella and cheddar, thick slices of bacon, and sweet Dijon mustard really kick things up a notch. Find it here!
Key ingredients:
Bacon
Mozzarella
Cheddar
Dijon mustard
BBQ sauce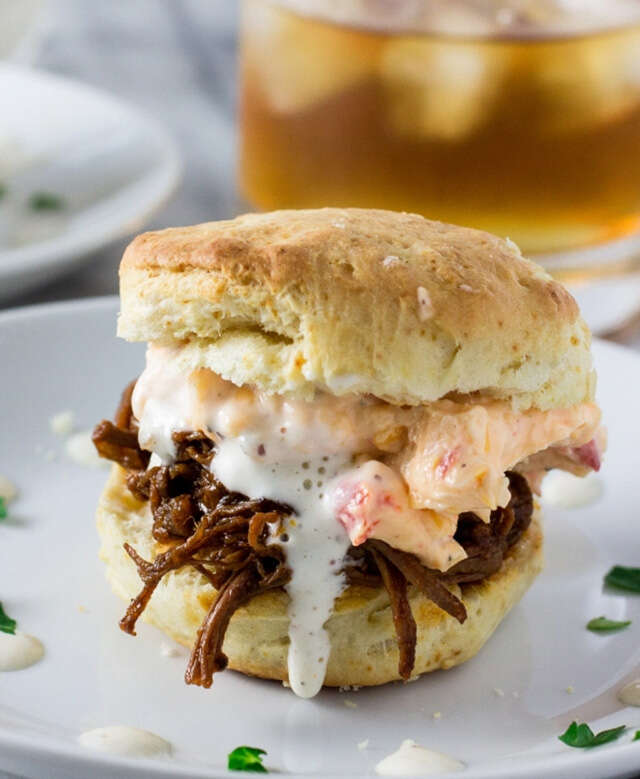 There's no reason for the buttermilk biscuit to be a side. Use it in lieu of bread! The pimento cheese and a white BBQ sauce -- made with mayo and horseradish -- cut and cool the sweet-and-spicy meat. Recipe here.
Key ingredients:
Brisket
Cream cheese
Pimentos
Buttermilk biscuits
White BBQ sauce
Give leftovers new life by sandwiching them into... erm... a sandwich. All food groups represented here.
Key ingredients:
Wedge buttermilk fried chicken between pimento cheese waffles and then douse 'em in warm maple syrup. Make it here!
Key ingredients:
Eggs
Buttermilk
Pimento cheese
Chicken breast
Flour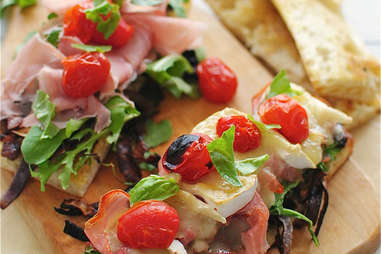 Between the crisp ciabatta, salty prosciutto, sweet onions, and buttery Brie, this recipe is a real tasty mouthful. Toast it up here!
Key ingredients:
Caramelized onions
Arugula
Prosciutto
Brie
Ciabatta
This simple, classic sub packs major flavor with the help of jalapeño chicken meatballs and a thick layer of cheddar cheese. It's here!
Key ingredients:
Ground chicken
Egg
Panko breadcrumbs
Jalapeño peppers
Cheddar cheese
Expertly sautéed mahi-mahi is given the bánh mì treatment with spicy curried mayo, Sriracha mustard, and a slew of sliced and pickled veggies. Add a fried egg! Here's the recipe.
Key ingredients:
Mahi-mahi
Mayo
Sriracha
Baguette
Eggs
Juicy pineapples are pickled in jalapeño-infused vinegar before topping BBQ pulled pork to create a perfectly sweet, tangy, and savory sandwich. Find it here.
Key ingredients:
Pork butt or shoulder
Jalapeño
BBQ sauce
Pineapple juice
Sandwich bun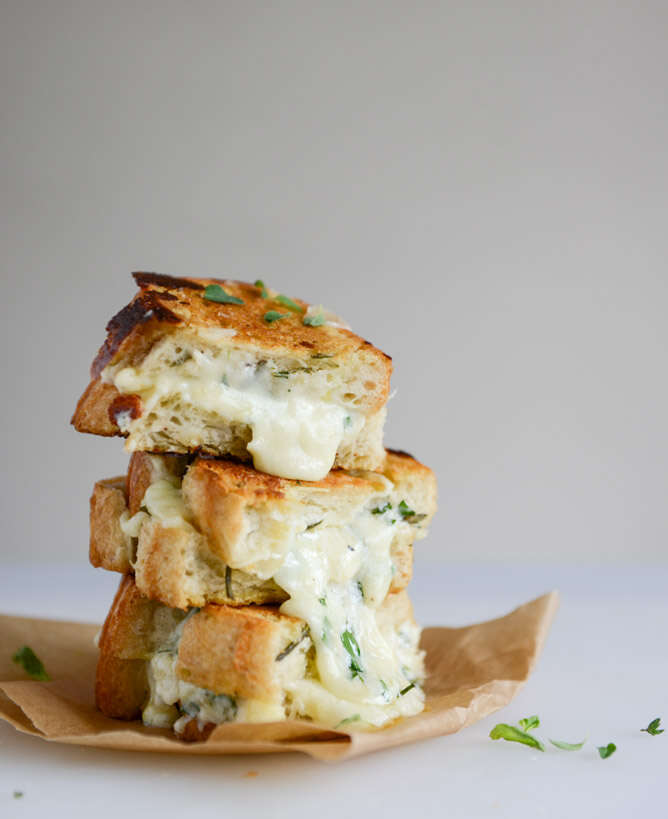 This seriously cheesy sandwich lives up to its pizza predecessor with a roasted garlic mascarpone spread and three layered cheeses (provolone, mozzarella, and Parmesan) for an exploding grilled chee' that's anything but ordinary. Grill it here!
Key ingredients:
Garlic
Mascarpone
Rosemary
Provolone cheese
Sourdough bread

Christine Fischer is a freelance writer dedicated to a strict diet of Champagne, cookies, and the occasional pizza. Follow her on Facebook and Instagram.