Chicken tikka masala, chicken tandoori, naan. Sound familiar? Of course they do! They are some of the most popular Indian dishes here in America; however, they hardly do this vast and varied cuisine justice, nor are they even that authentic (tikka masala originated in England). But there's hope yet, in the form of these 15 truly authentic recipes. Make these right at home and up your Indian food education.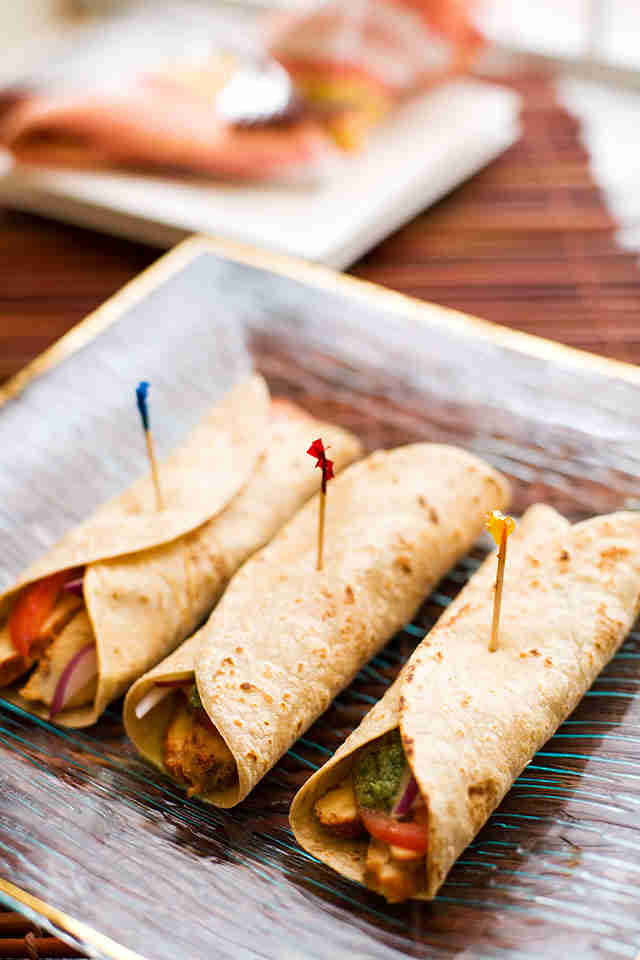 Where it's from: West Bengal
What it is: A thick egg omelette or chicken, some veggies or mutton wrapped up in a thin refined flour flatbread. You can find them almost anywhere in Indian (particularly the North) but it wasn't always that way -- these only became a thing in 1932, which is relatively recent for a traditional dish! Get the recipe here. 
Key ingredients:
Egg
Chicken/mutton/goat/lamb meat
Green chutney
Where it's from: Rajasthan
What it is: Many states other than Rajasthan, like Gujrat, Mahrashtra, and Punjab, have their own versions of this dish but typically it's a thin soup where besan (chickpea flour) is cooked with thinned yogurt and a temper of a few whole spices. Recipe here. 
Key ingredients:
Besan (chickpea flour)
Yogurt
Oil
Turmeric
Whole Spices
Where it's from: All cross the country with slight regional variations.
What it is: It's a beloved South East Asian delicacy typically made by slow cooking chicken in an onion, ginger, garlic, and tomato base, before several spices are added. Find the recipe here. 
Key ingredients:
Chicken
Tomato
Onion
Coriander
Garam masala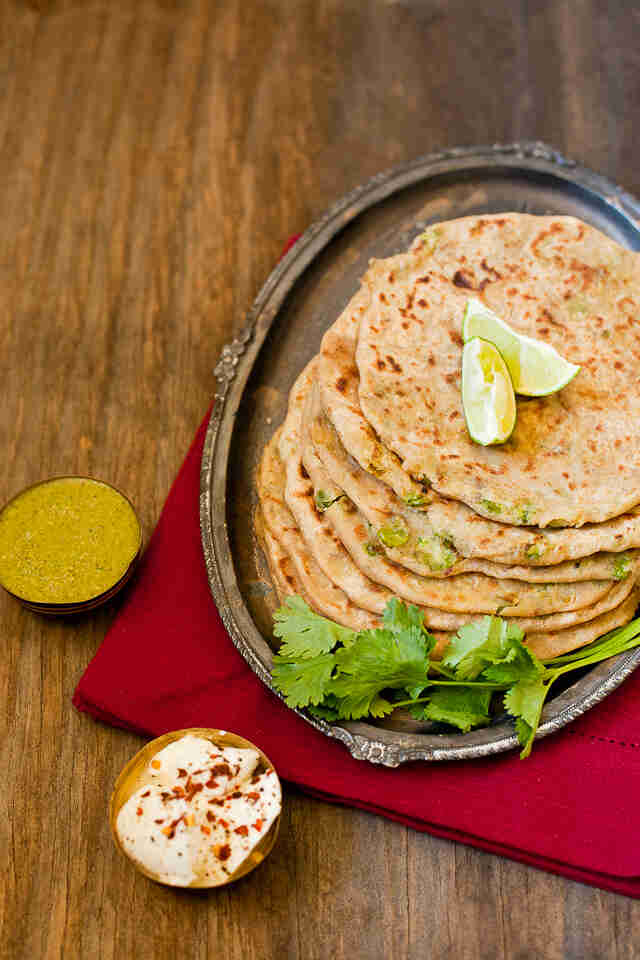 Where it's from: Delhi, Punjab, UP
What it is: Paratha is another form of flatbread, but unlike roti which uses little to no oil, parathas are pan fried in a skillet with ghee or oil. Fill 'em up with a variety of fillings, like spicy potatoes, cauliflower, grated paneer, or even spicy minced meat or eggs. Bharwan is a hindi name for "stuffed." Recipe here. 
Key ingredients:
Wheat flour dough
Spicy filling
Ghee/oil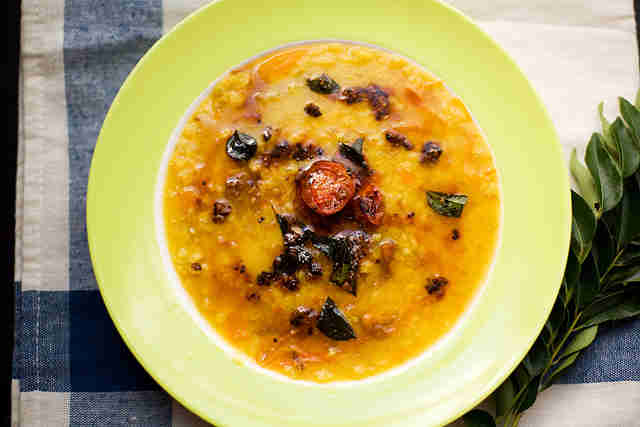 Where it's from: All over the country
What it is: All across India dal -- basically a thin form of lentil soup -- is eaten in one form or another. There are regional differences in spices and the variety of lentils, but its soul remains the same! Whole, split, washed or skin-still-on lentils are cooked in water with salt and turmeric before being tempered with spices cooked in ghee (clarified butter) or oil. Find the recipe here!
Key ingredients:
Lentil
Salt
Turmeric
Ghee or Oil
Whole/ground dry spices
Where it's from: South India
What it is: Just like roti is a staple in most houses in the northern part of India, dosa is in the south of India. Rice and lentils are soaked then ground and fermented slightly before turning them into a super light and crispy delight. Get the recipe!
Key ingredients:
Where it's from: North India
What it is: Brought to India by the Mughals, Kulfi is nothing but milk and sugar slowly cooked and reduced to a thick consistency -- kind of like ice cream. Add some more flavor like pistachio or almond, saffron or cardamom and pour them in the mold to freeze. Later serve topped with thin noodles soaked in rose water. Recipe here. 
Key ingredients:
Milk/Cream
Sugar
Saffron or cardamom
Nuts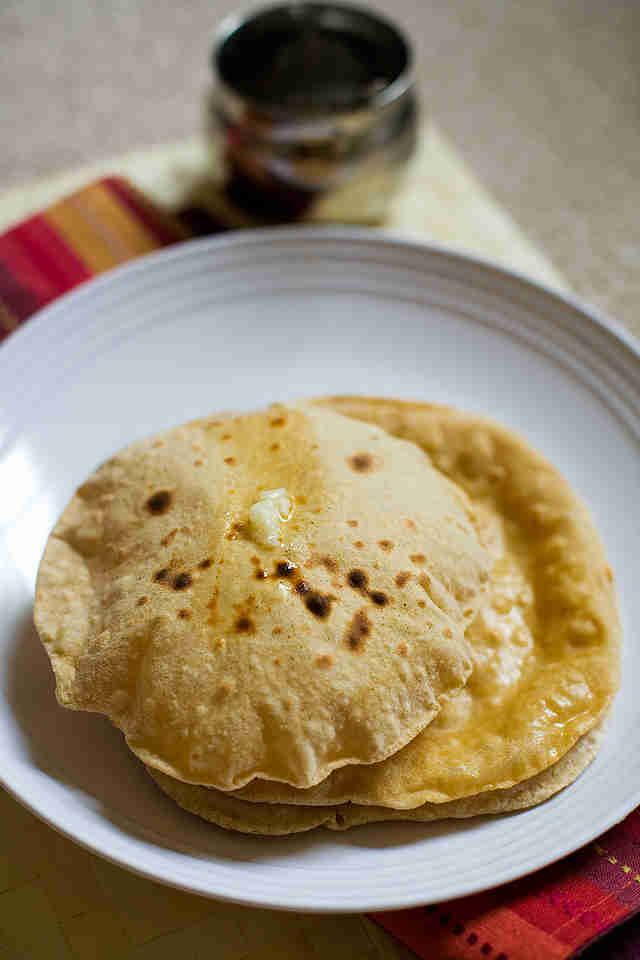 Where it's from: All over
What it is: A quick, simple, hot and spicy condiment made with fresh ingredients. Herbs like cilantro and/or mint are ground with hot chili peppers and garlic, and lemon juice or tomato can be added to give it a little tang. It's traditionally made using a mortar and pestle, but you can totally use your food processor. Watch out -- this one definitely packs a punch! Here it is! 
Key ingredients:
Fresh herbs
Salt
Garlic
Lemon juice or tomato
Cumin seeds
Where it's from: U.P, M.P, Rajasthan
What it is: Flaky, deep fried dough pouches filled with a spicy filling. It's a close cousin of samosa as both are made with the same essential ingredients and both are much loved Indian street food. Click, click, click!
Key ingredients:
All purpose flour
Oil
Spicy filling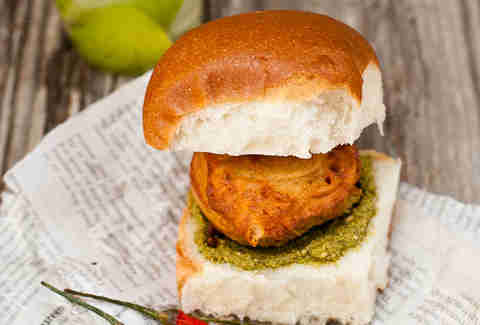 Where it's from: Maharashtra
What it is: They're an Indian version of veggie sliders, and a hugely popular street food. Sandwich a spicy potato patty in a dinner roll, then kick it up a notch with some spicy chutney and coconut. Get the recipe.
Key ingredients:
Potato
Ginger garlic paste
Red chili powder
Hot green chutney
Dinner rolls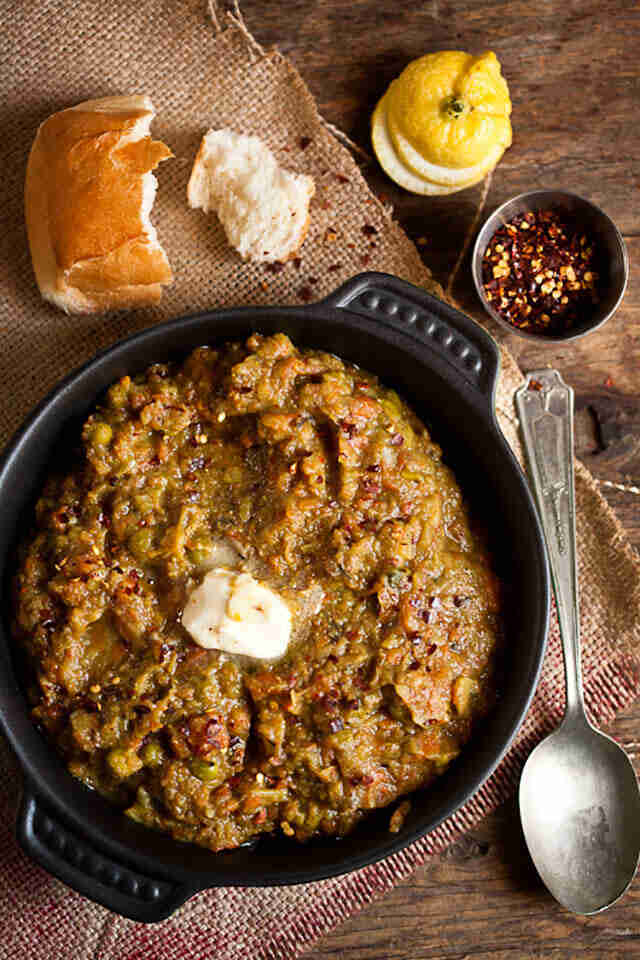 Where it's from: Maharashtra
What it is: If Vada Pav is an Indian slider then Pav bhaji can be easily called a vegetarian Sloppy Joe! This dish was originally developed as a fast food to be served to mill workers in Mumbai but then slowly gained popularity. It's now served in restaurants across the country and by the street food vendors. Cook vegetables with spices, and then mash them to a loose consistency. Serve with a dollop of butter and a side of buttered dinner rolls. Right this way!
Key ingredients:
Vegetables like cabbage, carrot, potato, peas etc.
Turmeric
Coriander
Garam masala
Ginger
Where it's from: It was brought to India by Persian invaders in the Medieval times, but now it's primarily found in the northern parts of India.
What it is: It's similar to the American funnel cake, but instead of being topped with powdered sugar, funnels of crispy fried fermented batter are dipped in sugar syrup until they absorb as much of the liquid as possible. Get it. 
Key ingredients:
Fermented dough batter
Sugar
Water
Oil
Where it's from: Originated from Gujrat
What it is: This popular tea time shortbread cookie is typically made by mixing sugar, butter, flour, a leavening agent, and some kind of nut -- almond, pecan, or cashew -- or spices like cumin or caraway. Recipe here!
Key ingredients:
Flour
Sugar
Butter
Sometimes eggs
Where it's from: Assam
What it is: Because of Chai's believed medicinal qualities, it was discussed in books like Ramayana (a sanskrit epic poem) and used in Ayurveda well before it became the purview of mega latte chains. Make it simply by cooking tea leaves with water, sugar, and milk. Then spice it up!
Key ingredients:
Tea leaves
Sugar
Water
Milk

Sign up here for our daily Thrillist email, and get your fix of the best in food/drink/fun.
Prerna Singh, the face behind award winning food blog Indian Simmer, is a cookbook author, food photographer, and recipe developer based in San Francisco, CA. Follow her on twitter: @IndianSimmer. Instagram: @indiansimmer.