25 Delicious Meals You Can Make From a Simple Rotisserie Chicken
Oh, the rotisserie chicken -- so flavorful, so filling, and so, so easy. Drop by the grocery store, pick up one of these tasty little birds, dress it up a bit, and boom! You've got yourself an instant dinner. Effortlessly ramp up your rotisserie chicken game while cutting cook time in half with these 25 different quick, easy, and crazy-delicious recipes that use the store-bought bird.
Three types of peppers meet juicy berries for this tangy, fiery take on a Mexican classic. Pro tip: char your tortillas for an extra-smoky kick. Get cooking here.

Bacon. Wrapped. Chili peppers. If you're not already convinced this is one of the best recipes of all time, you're out of your meat-loving mind. Let's get weird.
There's nothing more comforting than a steaming-hot bowl of chicken and dumplings -- especially when it only takes 30 minutes to make! This resourceful recipe even suggests using the chicken carcass to make the broth, so try not to toss it. Get cozy here.

With only five key ingredients, this simple, protein-filled salad is a snap to prepare. You can also double the dressing recipe and throw the extras in the fridge for future lunchtime endeavors. Recipe this-a-way.
Classic mac & cheese gets a much-needed makeover in this rich-and-creamy comfort dish. You'll definitely want to use full-sized macaroni shells to capture all that buttery, peppery goodness. Bring on the carbs with the recipe here.

The only thing better than chicken pot pie? Super-simple deep-fried chicken pot pie. Stock up on pre-made empanada wrappers and learn how to whip up these gooey little hand pies here.
These mini naan pizzas are piled high with mouth-watering toppings like briny artichoke, herbaceous pesto, tangy sun-dried tomatoes, and of course, store-bought rotisserie chicken. Recipe here.
The star of this savory side dish is fresh dill weed butter, so make sure not to skimp on that. Peep them pretty potatoes here.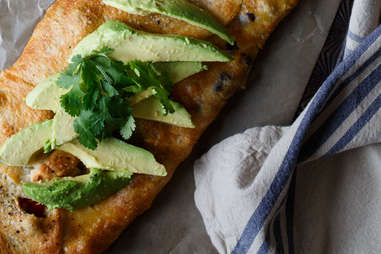 Spicy jalapeño Havarti breathes new life into this Italian staple while store-bought pizza dough and good old rotisserie chicken cut down on prep time. Get rolling here.
Junk food becomes soul food in this creamy, cheesy casserole. You'll probably want to serve this with a side of (uncooked) Doritos to make sure all your food groups are covered. Be bold with the recipe here.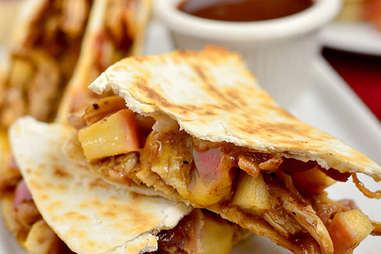 Rotisserie chicken's hottest quesadilla has everything: crunch, tang, spice, the ability to turn mere mortals into superhuman culinary masters. OK, maybe not that last one, but this badass recipe undeniably has a lot going for it. Get on it.
Spaghetti? In chicken noodle soup? It's so crazy it might just work -- and it does! With just six ingredients (including health superstar kale), this hearty dish definitely earns its "easiest ever" title. Get cracking here.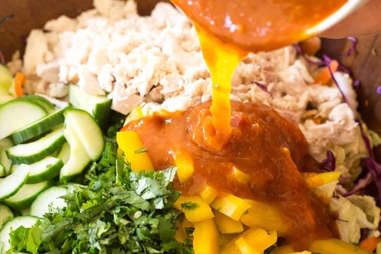 Tons of bright-red cabbage, yellow bell peppers, crispy carrots, and crunchy peanuts make this colorful salad a solid -- not to mention extra-healthy -- lunch option. Crunched for time? Skip the DIY and toss in store-bought Thai-style dressing. Click here to taste the rainbow.
Chilaquiles are the ultimate hangover food -- salty, gooey, and just spicy enough to help you sweat out last night's tequila. Even better, this casserole-like recipe cuts calories by swapping fried tortillas for the baked version. Sober up over here, amigo.
Don't let the name fool you -- this crazy-easy pasta is really just Italian-style mac & cheese in disguise. The last-minute addition of lemon zest makes the dish really pop. Go on, get fancy.
"Healthy" and "Buffalo" aren't two words we're used to seeing together but, believe it or not, this satisfying chicken salad is unapologetically both. The trick? Greek yogurt stands in for gut-busting cream cheese. To your health!
Half casserole, half garlicky lasagna, this super-simple crowd-pleaser is prime potluck material. Opt for fresh peas over frozen to up the flavor game. Get the deets here.
Spicy, sweet, and umami join forces in this Asian-style noodle dish. Sprinkle a heaping handful of fresh cilantro on top for extra color and punch. Go nuts with the recipe here.
Taste the pure joy that is Ohio fast-casual chain Max & Erma's with this take on tortilla soup. And if you'd prefer something less akin to queso dip, just go easy on the cheese and tortillas and add a little extra stock. Simmer down over here.
Hearty, ultra creamy, and ridiculously easy to make, this is the Holy Grail of chicken pot pie recipes. Dish it out into individual ramekins before baking and everyone gets a piece of the pie. Do the dang thing here.
Whether you're cooking for kids or trying to make those groceries stretch until Sunday, enchiladas are a surefire go-to dish. Remember to save some tortilla strips to sprinkle on top for added texture. ¡Vámonos!
Skip a few steps and use a rotisserie chicken for the Buffalo base. Just make sure not to burn your buns and you've got yourself one solid sandwich. This way to Flavortown.
It's like enchiladas and pasta had a beautiful, delicious baby. Don't forget to dress it up with sliced avocado, sour cream, and lots of hot sauce. Go forth and cook!
This ain't no side salad -- we're talking Texas-sized, y'all. Drench your fresh, finely chopped veggies in this zesty (and genius) DIY combo of ranch dressing and taco seasoning for a true Tex-Mex experience. Don't mess.
Homemade pesto and shredded fontina cheese take the lead in this fancy grilled cheese number, so make sure you have a blender on hand to get that green stuff nice and smooth. Get on your grind here.
Sign up here for our daily Thrillist email, and get your fix of the best in food/drink/fun.
Meredith Heil is a staff writer for Thrillist. She's been cooking with the sauce, Chef Curry with the pot. Follow her progress at @mereditto.