8 Absurdly Delicious Meals You Can Make in 10 Minutes or Less
Perry Santanachote/Thrillist
No matter what time of day, you can treat yourself to a hot home-cooked meal that takes only 10 minutes. That's as much time as it takes to get halfway through the line at Chipotle. Plus, you'd be trading in your burrito for steaming-hot pasta carbonara, freshly baked pizza, or a whole lobster. Did you know you could cook lobster in 10 minutes? Read on, my friend.
Perry Santanachote/Thrillist
10-Minute Pizza
Total Time: 10 minutes
Yield: 1 pizza
INGREDIENTS:
1 ball of pizza dough, made ahead (or bought from your favorite pizza place on the way home from work!)
Jar marinara
Whatever toppings you like
DIRECTIONS:
Preheat the oven to 500°F and sprinkle a pizza stone or baking sheet with a little cornmeal.
Stretch the dough out and top it with whatever you like.
Bake it for 8 minutes, or until it's lightly blistered and bubbling.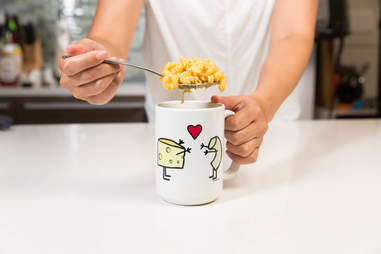 Laura Murray/Thrillist
Microwave Mac 'n' Cheese in a Mug
Total Time: 6 minutes
Yield: 1 serving
INGREDIENTS:
1/3 cup elbow macaroni noodles
2 tablespoons milk
1 tablespoon unsalted butter
1/2 cup shredded sharp cheddar cheese
1/4 teaspoon kosher salt
1/8 teaspoon ground mustard
Sprinkle of cayenne pepper (or more to taste)
Freshly ground black pepper to taste
DIRECTIONS:
Put pasta and 1/3 cup of water into a 15-ounce mug (or larger). Place the mug on a large plate to catch any overflow and microwave on high for 2 minutes. Stir well and microwave for another 2 minutes.
Carefully remove mug from microwave with oven mitts or a dish towel. Noodles should be nearly cooked at this point and most of the liquid should be absorbed/evaporated. Stir again, add milk and butter, and nuke for 1 ½ minutes. Add cheese, salt, mustard, and cayenne; mix well. Microwave for 30 seconds to melt the cheese; stir again.
Finish with pepper and eat immediately.
Perry Santanachote/Thrillist
Instant Fried Rice
Total Time: 10 minutes
Yield: 4 servings
INGREDIENTS:
2 cups instant white rice, uncooked (or 3 cups cold, leftover rice)
2 tablespoons vegetable oil
3 eggs
1 cup frozen peas and carrots
2 tablespoons soy sauce
½ tablespoon rice vinegar
DIRECTIONS:
Cook rice according to package instructions.
Heat oil in a wok or large skillet over medium-high heat until shimmering.
Crack eggs directly into the pan and scramble until barely cooked. Add rice and frozen vegetables; stir fry for 3 minutes, until veggies are warmed through. Add soy sauce and rice vinegar; stir to combine.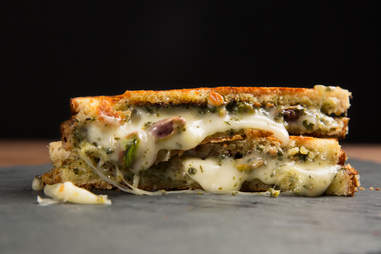 Drew Swantak/Thrillist
Taleggio, Pesto, and Pistachio Grilled Cheese
Total Time: 6 minutes
Yield: 1 sandwich
INGREDIENTS:
1 tablespoon butter, softened
2 slices white sandwich bread
2 tablespoons grated Parmesan cheese
2 tablespoons basil pesto
3 ounces Taleggio cheese, sliced thin
2 tablespoons shelled and crushed pistachios
DIRECTIONS:
Heat a nonstick skillet over medium-low. Spread butter evenly on both sides of the bread slices. Place bread in skillet and toast until golden, about 2 minutes. Evenly sprinkle Parmesan on top of the slices and flip.
Spread pesto on both slices and top with Taleggio. When cheese melts, turn off heat and sprinkle pistachios on one slice. Top it with the other slice with fillings facing in.
Slice diagonally and put that monster away (into your belly). 
Drew Swantak/Thrillist
10-Minute Lobster
Total Time: 10 minutes
Yield: 1 lobster
INGREDIENTS:
1 lobster
Warm butter, for dipping
DIRECTIONS:
​Fill a large pot with 2 inches of water and enough salt to make it taste like the sea. Bring it to a boil over high heat.
Place a 1-pound lobster in the pot and steam for 8 minutes. Steaming cooks lobster more evenly and doesn't wash out all the flavor like boiling does.
Use tongs to remove the lobster from the pot and place it on a large plate with warm butter.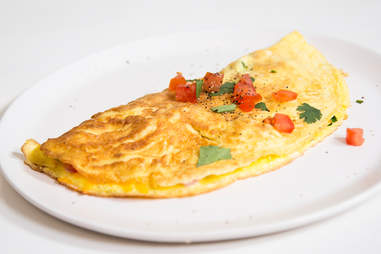 Tony Biancosino/Thrillist
The Perfect American Omelet
Total Time: 10 minutes
Yield: 1 omelet
INGREDIENTS:
3 large eggs, at room temperature
Pinch of kosher salt
1 teaspoon unsalted butter
1 tablespoon olive oil
Fillings of choice (cheese, ham, diced peppers, etc.)
DIRECTIONS:
Crack eggs into a small bowl and season with salt. Beat the eggs with a fork until the whites and yolks are thoroughly blended.
Heat a 10-inch nonstick skillet over medium heat for a few minutes. Add butter and olive oil. Swirl around in the pan to coat the bottom and sides.
Once the butter melts, pour eggs into the center of the pan and stir vigorously with a silicone spatula for 5 seconds. As soon as curds begin to form, lift the pan and tilt it around until the excess liquid pours off the top of the curds and into the pan. While the eggs are still wet, top it with cheese and other toppings (don't overdo it). Leave it alone until a crust forms along the edge.
Shake the pan gently to make sure the omelet is loose, then use your spatula to flip one side over the other into a half moon. Transfer to a warm plate and serve immediately.
Perry Santanachote/Thrillist
Quick Pasta Carbonara
Total Time: 10 minutes
Yield: 1 serving
INGREDIENTS:
4 ounces spaghetti
2 slices thick bacon, chopped
1 clove garlic, chopped
1 egg yolk
Grated Romano or Parmesan cheese
Salt and freshly ground black pepper to taste
DIRECTIONS:
Add pasta to a large pot of boiling water and cook for 8 minutes.
Meanwhile, heat a large skillet over medium heat. Add bacon and brown for 3 minutes. Add garlic and cook for 3 minutes more.
In a separate bowl, beat yolk, then add 2 tablespoons of the pasta water (this tempers the eggs and keeps it from scrambling when added to the pasta).
Drain pasta and add it to the skillet with bacon. Turn off the heat and pour egg mixture over the pasta. Toss rapidly to coat the pasta before the egg scrambles. Add a handful of cheese, lots of black pepper, and a little salt.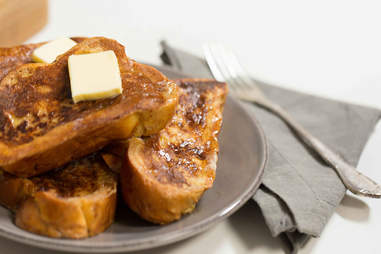 Drew Swantak/Thrillist
The Best French Toast
Total Time: 10 minutes
Yield: 4 servings
INGREDIENTS:
1 large loaf challah bread
6 eggs
1 cup whole milk
2 tablespoons sugar
1 tablespoon ground cinnamon
1 teaspoon vanilla extract
1/4 teaspoon ground nutmeg
Vegetable oil (for greasing the griddle)
Butter, maple syrup, and powdered sugar, for serving
DIRECTIONS:
Cut challah into 1-inch-thick slices. You should have about 8 slices, not including the heels. 
In a large, wide bowl, combine eggs, milk, sugar, cinnamon, vanilla, and nutmeg; whisk until it's light and frothy.
Place bread slices in egg batter for about 30 seconds on each side. Don't rush it. The bread should be soaked through so it's nice and custardy inside.
Brush oil on a griddle or large skillet and heat over medium-low. Pick up bread slices, letting excess batter drip off, and place on the griddle. Cook for 2-3 minutes or until the bottom side looks dry along the edges. Flip and cook the other side for 1-2 minutes. Remove from heat and serve immediately or keep warm in the oven set at 200℉.
Top it off with pats of butter, warm maple syrup, and powdered sugar.