9 Incredibly Easy Pizza Dough Recipes
Homemade pizza is terrific in theory, but unless you're just topping a DiGiorno with Bagel Bites, it's often miserable in execution. Under or overcooked, the dough is always a lesser pizza's downfall.
So we asked three time James Beard nominee Chef Luciano DelSignore for the most important things home cooks should keep in mind. He says, "Properly ferment the dough. You must let commercial yeast ferment for at least 24 hours, sometimes up to three days. And respect the dough. It has to remain round and must be flattened and pushed out. Once you fold it, you change the structure, the chew, and the integrity of the texture."
But assuming you're not a patient master Italian pizza maker, here are nine super easy pizza dough recipes, some more time-consuming than others, that'll ensure the process is as painless as possible.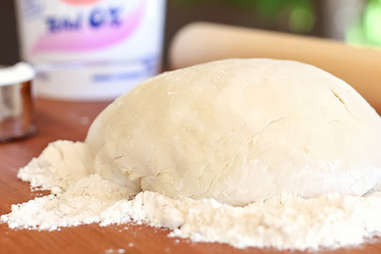 With just Greek yogurt and self-rising flour, plus no rise time, it might actually be faster to make a pie than to eat one. Recipe's here.

Everything gets stirred together all at once. Get it!
Go from not having a pizza to having a pizza with a touch of sweetness in the crust in under an hour. Recipe's here!

You're going to have to plan ahead for this Brooklyn fave's illustrious dough, but if you sleep through the 24 hours it takes for it to rise, the process will at least feel faster. Click here for the recipe.
This no-knead recipe from Jim Lahey, the lauded NYC restauranteur behind Sullivan Street Bakery and the unusual pizzas of Co., has been floating around the internet for ages and it's for good reason. The man knows what he's doing. Recipe (as interpreted by Stephanie from i am a food blog) is here.

Easy doesn't necessarily equate to quick, but once you do have that dough, save half in the fridge for later in the week. Spread the rest thin and drizzle with olive oil before the toppings. Thin crust awaits for you.
No rise time, guys! No rise time! Recipe here.

Just mix with a large wooden spoon, and it'll be ready for toppings within two hours. If you have the time though, wait longer for more developed flavors. Get that recipe here.
It may not be typical, but it is easy, as noodles don't need kneading or rising. And Recipes Editor Perry Santanachote swears this recipe can be done in under 25 minutes. Click for the recipe here!

Carrie Dennis is an associate editor for Thrillist and is actually Dave Infante. Follow her on Twitter @CarrrieDennnis.