​I'm not saying there's anything wrong with plain French toast, but sometimes breakfast needs to be jazzed up a bit. 
You probably already have some of these add-ins -- marshmallows, half a jar of capers, Reese's Peanut Butter Cups -- hanging around in your cupboards or on the refrigerator door, and as an added bonus, the French toast treatment can revive otherwise stale food, like day-old croissants or overripe bananas.
So if you haven't already, master basic French toast with this recipe here, and then get to these super-simple, but totally decadent variations. My favorite is the BLT -- regular bread just won't do it for me anymore.
Croissant French toast
Double up on the French-ness by using day-old butter croissants instead of bread. Flatten them slightly with your hands or a rolling pin, and soak in the batter for a few minutes to fully absorb the egg mixture. Top it all off with toasted almonds. Très bon!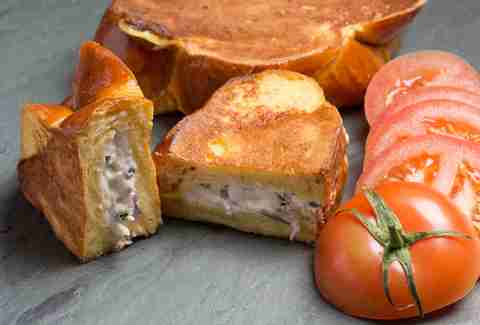 Lox French toast
In a medium bowl, mix together ½ cup cream cheese, ¼ cup chopped smoked salmon, 1 tablespoon drained capers, and 1 tablespoon chopped red onion until combined. Slice a pocket in a thick slice of challah and stuff it with ¼ cup of filling. Batter up, grill, and serve with sliced tomatoes.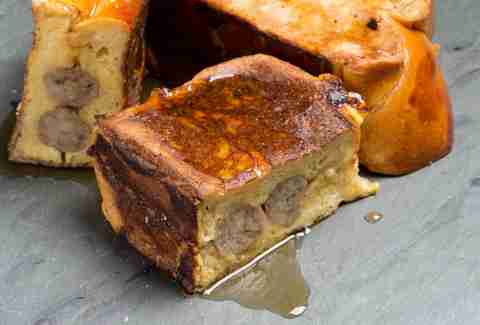 Sausage-stuffed French toast
Thaw out 8 frozen pre-cooked sausage links. Stuff each slice of challah bread (you cut a pocket in it, remember?) with 2 links, batter, grill, and serve with lots of maple syrup.
S'mores French toast
Stuff 2 jumbo marshmallows and 6 Hershey's chocolate squares into thick slices of challah. Batter and grill them as usual. No need for syrup... this is sweet enough. The marshmallows melt into the bread as it cooks, making the French toast taste like marshmallow custard.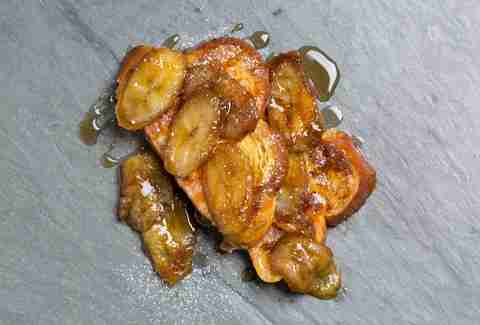 Bananas Foster French toast
Cook up French toast as usual and keep warm in the oven. Melt 4 tablespoons butter and ¼ cup dark brown sugar in a skillet. Add 2 sliced bananas and sauté until just tender. Sprinkle with some ground cinnamon, remove from heat, and add 2 tablespoons banana liqueur and ¼ cup rum. Carefully light it with a long match and use a long-handled spoon to baste the bananas with the liquid until the flame burns out. Top each toast with bananas.
BLT French toast
Sandwich bacon, lettuce, tomato, and mayo between two slices of fresh French toast. 
Reese's French toast
Stuff each slice of challah with 2 Reese's Peanut Butter Cups. Batter and grill until cooked through.
Cappuccino French toast
Add 2 tablespoons instant espresso powder to the batter, then whip up coffee cream to go on top. Beat together 1 cup heavy whipping cream, 1 tablespoon sugar, and 1 teaspoon instant espresso powder until soft peaks form.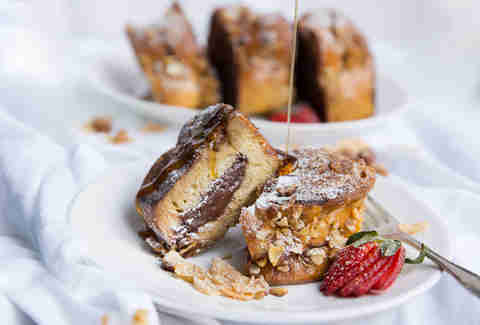 Nutella French toast
Mix ½ cup cream cheese with ⅓ cup Nutella until well combined. Stuff each slice of challah with ¼ cup of the Nutella mixture. Dredge in Frosted Flakes after the batter for extra crunch.
Lemon meringue French toast
Stuff each challah bread pocket with 2 tablespoons lemon curd before sticking it on the griddle. To make the meringue, combine ¼ cup sugar, ¼ cup corn syrup, 3 tablespoons water, ⅛ teaspoon cream of tartar, and a pinch of salt in a saucepan over medium heat. Stir constantly until sugar has dissolved. In a medium mixing bowl, beat 2 egg whites until foamy. With mixer on medium speed, slowly pour the hot syrup into the egg whites. Beat at high speed until stiff peaks form. Serve with the French toast.
Crème brûlée French toast
Heat the oven to 375 degrees. Whisk together 1 cup packed light brown sugar and 1 stick melted butter. Pour it onto a rimmed baking sheet. Place soaked bread slices on top of the brown sugar mixture and bake for about 25 minutes, or until sugar is bubbling. Serve caramelized-side up.
Strawberry cheesecake French toast
Combine ½ cup cream cheese and ½ cup chopped fresh strawberries. Stuff each challah bread pocket with ¼ cup of filling. Dredge soaked slices in batter, then graham cracker crumbs before placing on the griddle.
Sign up here for our daily Thrillist email, and get your fix of the best in food/drink/fun.
Perry Santanachote is Thrillist's recipes editor and wants to see your favorite French toast. Tag her at @perrysant.