Apple Pie Nachos Are More American Than a Taco Bell/KFC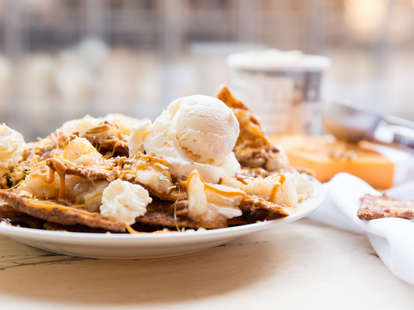 Drew Swantak
Drew Swantak
Like a beautiful love child of Lady Liberty and the Alamo, everything I love about apple pie -- flaky, buttery crust; warm, spiced apples; melted cheddar and vanilla ice cream -- is layered in each bite of these "nachos." Plus, it's a finger food. But the best part? It fixes apple pie's one flaw: it's ready immediately when I'm craving it and is easy as, uh... pie.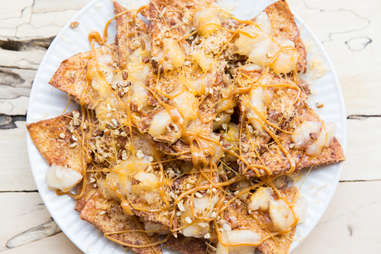 Apple Pie Nachos Recipe
Total Time: 25 minutes
Yield: 40 chips
INGREDIENTS:
1/3 cup granulated sugar
1/4 cup apple pie spice
1/2 teaspoon sea salt
5 (8-inch) soft flour tortillas
1 stick unsalted butter, melted
1 (21-ounce) can apple pie filling
1/2 cup grated sharp cheddar cheese
1/4 cup chopped pecans
2 tablespoons caramel sauce
1 cup vanilla ice cream
1/2 cup whipped cream
DIRECTIONS:
Preheat oven to 350℉. Line 2 baking sheets with parchment paper.
Combine sugar, apple pie spice, and salt in a large resealable plastic bag.
Cut each tortilla into 8 even wedges. Brush both sides with butter. Toss into the bag, seal it, and shake to evenly coat the wedges.
Arrange wedges in a single layer on sheets and bake for 10 minutes. Flip the wedges and bake for another 10 minutes. Remove from oven and let cool slightly.
In a medium bowl, heat the apple pie filling in the microwave for 2 minutes on high.
To assemble the nachos, arrange chips on a large platter, spoon apple pie filling evenly over the chips, sprinkle with cheddar and pecans, drizzle caramel, dollop ice cream and whipped cream on top.