Bacon-Infused Bloody Mary Popsicles With Bacon Sticks, 'Cause Screw It
Drew Swantak
Drew Swantak
International Bacon Day is such a revered holiday for us that we also celebrate its eve. And if you leave bacon and cookies out for Bacon Claus, in return he might bring you these bacon-infused, boozy Bloody Mary popsicles.
The pops take a bit of prep time, which mainly consists of letting bacon sit in vodka for a while, while you eat other bacon and drink other vodka. So... it's not that bad. You also have to be prepared to buy hundreds of wooden popsicle sticks, then immediately throw them all away, so they can be replaced with candied-bacon wrapped breadsticks.
Oh, and the celery in the photos? Props! And as far as we're concerned, inedible. Don't you dare.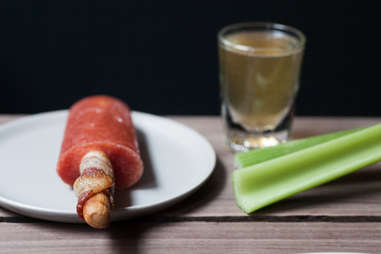 Bacon Bloody Mary Popsicles Recipe
Total Time: 17<span> hours
Yield: 6
INGREDIENTS:
4 slices bacon
1 (375ml) bottle vodka
2 tablespoons brown sugar
1 teaspoon chili powder
6 slices thin-cut bacon
6 Italian breadsticks
2 1/4 cups tomato juice
1/3 cup bacon-infused vodka
2 tablespoons fresh lemon juice
1 teaspoon bottled horseradish
1/2 teaspoon celery salt
1/2 teaspoon black pepper
4 drops Worcestershire sauce
Funnel
Fine-mesh strainer
6 (1/3-cup-capacity) popsicle molds
DIRECTIONS:
Cook 4 strips of bacon in a large skillet over medium heat until crisp but still flexible, 5-7 minutes. Let cool slightly then transfer bacon and all rendered fat to a pint-size Mason jar or container with a lid. Add vodka (save the bottle for later), cover, shake well, and let stand at room temperature for at least 6 hours.
Remove bacon strips and place jar in freezer for 30 minutes to solidify the fat.
Set the funnel over the opening of the empty vodka bottle and place the mesh strainer over it. Scoop out and discard the solid fat layer on top of the vodka and slowly pour the vodka through the strainer and funnel.
Discard all the strained solids. The bacon-infused vodka is good for up to 6 months.
To make the bacon popsicle sticks, preheat the oven to 400°F. Place a wire cooling rack on a baking sheet; set aside.
Mix together brown sugar and chili powder in a medium bowl. Dredge bacon in the mixture to coat. Wrap 1 bacon slice around a breadstick, spiraling to cover the entire stick. Place it on the wire rack and repeat with the rest of the bacon and breadsticks.
Bake until bacon caramelizes, about 15 minutes. Remove from oven and let cool completely.
To make the Bloody Mary mix, blend all ingredients in a blender until smooth. Strain through a fine-mesh strainer into a large measuring cup. Discard solids and pour 1/3 cup of liquid into each popsicle mold. Freeze for 2 hours.
Insert bacon popsicle sticks; freeze until solid, at least 8 hours or overnight.