These Bacon-Whiskey Wings Will Change Your Life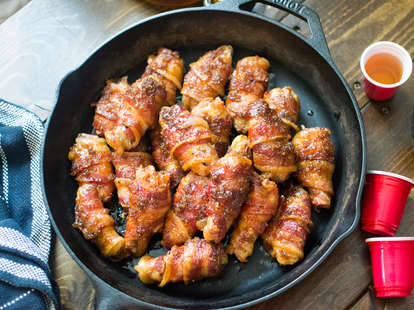 Buffalo wings have no flaws. I'll admit that. They are the perfect football snack -- greasy, spicy, and a fantastic vessel for ranch dressing (unlike those limp celery sticks that wings are forced to share plate real estate with). And every wing gives you that little unnecessary-but-still-welcome nudge to drink another beer.
But, dammit, this is America, and if we settled every time we thought something was "good enough" we never would have put a man on the moon, or created the Domino's 30-minute guarantee, or invented those little Sriracha keychains so you can hot sauce your burrito while driving.
My point is, sometimes you just have to take shit up a notch. Sometimes, you have to crank that gnarliness dial all the way up to 11, ride the lightning, and get weird with it and all that good stuff. Sometimes, you have to wrap all your chicken wings in bacon and then cover them in whiskey sauce. Do it for football. Do it for America. Do it for yourself, man.
Wrapping wings in bacon is more craft than science. There's no perfect way to do it, but as long as you can get some smoked pork strips to stick to chicken while it's cooking, you've done your duty. Toothpicks are your friend here. You want to pin the end of a slice of bacon to the very bottom of a wing with a toothpick, then wrap the bacon tightly in a spiral up the wing, and pin the other end to the top. It's a simple process. (Albeit, much less simple if you're doing it a few beers in. Like me. Oops.)
When it comes to cooking the chicken, roasting the wings is for sure the way to go here. Deep-frying them can cook the bacon too fast and make it taste shitty and oxidized. Pan-frying them can leave everything sitting in a puddle of grease, which isn't the worst problem, but it's not ideal. Roasting them on a rack lets all the bacon fat render and melt through the chicken while dripping onto the sheet tray and not absorbing any excess.
As for the sauce, most whiskey-glazed things are bullshit marketing gimmicks from sit-down chain restaurants designed to trick you into spending $14.95 for microwaved ribs. This is not that. The ginger, shallots, and soy add a resounding savory, aromatic quality to it, the maple brings that sticky greatness, the vinegar hits you with the acid, and then the whiskey is the funky bass line running through all of it. This is good. Make it. And then maybe make a second batch to share.
Bacon-Wrapped, Whiskey-Glazed Chicken Wings
Total Time: 1.5 hours Active Time: 30 mins
Yield: 6
INGREDIENTS:
Toothpicks
Baking sheet
Wire rack
12 whole chicken wings
24 slices of bacon
2 tablespoons unsalted butter
2 tablespoons minced shallot
1 tablespoon fresh-grated ginger
8 ounces whiskey (cheap is fine)
½ teaspoon ground black pepper
¾ cup real maple syrup
¼ cup soy sauce
1 tablespoon hot sauce (such as Tabasco)
1 tablespoon apple cider vinegar
DIRECTIONS:
Preheat your oven to 350 degrees. Use a chef's knife to hack the tips off the chicken wings and discard. Pull the wing apart and slice through the excess skin connecting the drumette and the flat to expose the bone. Find where the two bones meet and use your knife to slice through the intersection, creating two separate parts to the wing. You should have 24 pieces of chicken. Boom, now you know how to butcher wings. You're welcome.
Take a chicken piece and wrap a slice of raw bacon around it, using two toothpicks to secure the loose bacon ends. Repeat until all wings are wrapped in bacon. Place the wings on a wire rack on a baking sheet and put the sheet in the oven for an hour, flipping halfway through.
While the wings are roasting, make the glaze. Heat the butter in a large sauce pot on medium heat, and when it's melted, throw in the shallot and ginger. Sauté for about 5 minutes until the shallots are translucent but not caramelized. Add in your whiskey, black pepper, maple syrup, soy sauce, hot sauce, and apple cider vinegar and cook for 10 minutes on high heat, stirring occasionally, until the mixture is reduced. It should stick to the back of the spoon when it's ready.
Remove the wings from the oven, brush each wing with the glaze until fully lacquered up. Then pop the wings back in the oven for an additional 5 minutes to finish them off. Remove the toothpicks from the wings, throw the wings on a big-ass platter or something, and shove them all in your facehole.
Sign up here for our daily Thrillist email, and get your fix of the best in food/drink/fun.
Josh Scherer is the author of the forthcoming cookbook,
Culinary Bro-Down: Recipes for a Dope-Ass Life
. He thinks Taco Bell is the greatest restaurant the world has ever known. Follow him @culinarybrodown.