How to Make Bagel Balls, the Most Efficient Way to Eat Bagels
Perry Santanachote/Thrillist
Bagel balls have won over that place in my heart previously reserved for other bite-sized breakfasts, like donut holes or mini-muffins or Pop-Tarts that come out of that foil wrapping mysteriously shattered into small pieces. With crispy, chewy exteriors and creamy insides, bagel balls are just like fresh bagels, but cuter and without the full carb overload. They get bonus points for being deceptively easy to make: just roll out the bagel dough into small discs, plop frozen cream cheese into the center, seal the dough shut, and then boil. I chose to roll mine in "everything" seasoning, but you can top yours with anything and stuff them with whatever flavor cream cheese you like. The world is your bagel ball.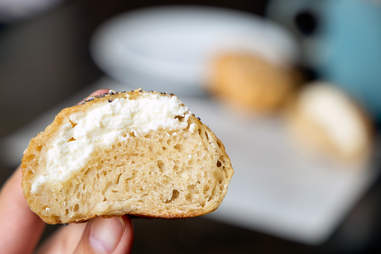 Perry Santanachote/Thrillist
Bagel Balls Recipe
Total Time: Overnight (1 hour active)
Yield: 16
INGREDIENTS:
1 ⅓ cups water, at room temperature
2 tablespoons barley malt syrup, divided
1 teaspoon active yeast
1 tablespoon kosher salt
3 cups all-purpose flour
Cooking spray oil
8 ounces cream cheese
2 ½ teaspoons poppy seeds
2 ½ teaspoons sesame seeds
2 teaspoons caraway seeds
2 teaspoons dried minced garlic
2 teaspoons dried minced onion
1 teaspoon coarse sea salt
1 tablespoon baking soda
1 egg white, lightly beaten
DIRECTIONS:
Place the water in a large mixing bowl; add 1 tablespoon barley malt and yeast. Let sit a few minutes, until the yeast softens and blooms. Add flour and salt. If you're using a stand mixer, attach the dough hook and mix on a low speed for 3 minutes. If you're mixing by hand, use a large wooden spoon and stir for about 3 minutes so the dough is well blended. Cover the bowl with a dish towel and let sit for 5 minutes.
Mix again on low speed for 3 minutes, or until it forms a stiff, yet supple ball that springs back when you poke it. If working by hand, transfer to a lightly floured work surface and knead. Coat a large bowl with cooking spray and add the dough. Cover the bowl tightly with plastic wrap and let the dough rise at room temperature for 1 hour.
Line a baking sheet with parchment paper. Scoop cream cheese into 16 equal tablespoon-size balls and place on sheet. Freeze while the dough rises.
When dough is ready, turn it out onto a lightly floured surface. Use a bench cutter or butter knife to cut it in half, then cut those pieces in half, and repeat until you have 16 pieces.
Coat a baking sheet with cooking spray. Use your fingers to work each piece of dough into a chubby disc. Place a piece of frozen cream cheese into the center of the dough and bring the dough edges together, twisting them closed at the top, like a hobo sack. Place it on the sheet, smooth side up, and repeat with the remaining dough.
Mist the bagels with cooking spray, cover with plastic wrap and refrigerate overnight.
Remove the bagels from the refrigerator 1 hour before you plan to bake them.
Preheat the oven to 400℉. Fill a large pot with 3 quarts of water and bring it to a boil over high heat, then lower the heat to maintain a simmer. Stir in the baking soda and remaining 1 tablespoon barley malt syrup.
In a shallow bowl, combine poppy seeds, sesame seeds, caraway seeds, garlic, onion, and sea salt; set aside.
Gently lower bagels, one at a time, into the simmering water. Add as many as will fit in the pot without crowding. Boil for 1 minute, turn them over, and boil for another minute. Use a slotted spoon to transfer the bagels back to the oiled baking sheet, rounded side up.
Brush bagels with egg whites and sprinkle the seasoning on top. Bake until nicely browned, 20 to 25 minutes. Let cool on a wire rack for 30 minutes before devouring.
Perry Santanachote/Thrillist
Perry Santanachote/Thrillist