No Butter? No Problem. Every Baking Substitute You Could Ever Need.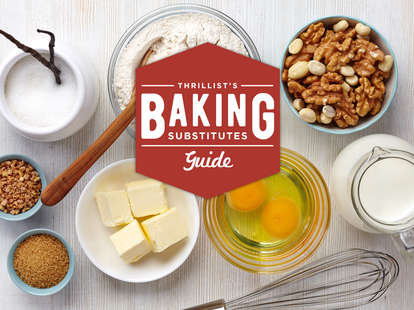 You're halfway through a brownie recipe -- pot-infused or otherwise -- when you realize you have no eggs, and the grocery store is closed. You could go ask the babe next door, but it's late, and you're already in your pajamas, and at that moment, an abandoned recipe is 100% preferable to a real life interpersonal interaction. We've all been there. (Right? This happens to you guys, too, right??)
Don't give up just yet! This substitution chart, which covers the many basic but necessary ingredients you're likely to run out of, will help keep you cooking, and your neighbor blind to the truth that you just made a pan of brownies for one.

Sign up here for our daily Thrillist email, and get your fix of the best in food/drink/fun.
Perry Santanachote is Thrillist's recipes editor. She once asked a neighbor for a cup of sugar, then tripped and spilled it all over the hallway. She doesn't leave her apartment anymore. Follow her on Instagram: @perrysant.