Bacon-Wrapped, Stout-Battered Onion Rings Make You a Better Person
Regular onion rings are already pretty damn good, but a twirl of crisp bacon and rich stout batter take them past damn good to a version with stronger expletives attached. These are the onion rings from a special dimension where you're hotter, smarter, and charged significantly lower ATM fees. Added bonus: they go great with even more beer.
Drew Swantak/Thrillist
Beer-Battered Bacon Onion Rings Recipe
Total Time: 25 minutes
Yield: 12-16 rings
INGREDIENTS:
2 large vidalia onions
1 quart vegetable oil
12 ounces stout beer
2 cups all-purpose flour, divided
2 pounds sliced bacon
2 cups jarred queso
DIRECTIONS:
Cut onions crosswise into 1/2-inch thick slices, peel, and separate into rings. Discard the inner bulbs.
Heat oil to 365℉ in a deep fryer or heavy-bottomed pot attached with an oil thermometer.
Combine beer with one cup flour; mix thoroughly. Place remaining flour in a shallow dish.
Dredge onion rings in flour, shake off excess, and dip in beer batter. Spiral slices of bacon around each onion ring to completely wrap it (you may need several slices depending on the size of the onion). Dip into batter again.
Deep-fry the rings, a few at a time, for 3-5 minutes, or until deep brown. Transfer to paper towels to drain.
Serve while hot with queso, heated according to jar instructions.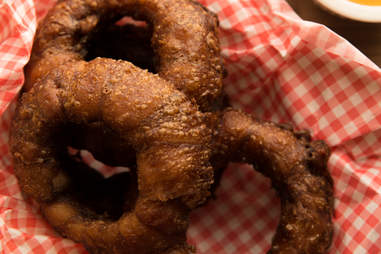 Drew Swantak/Thrillist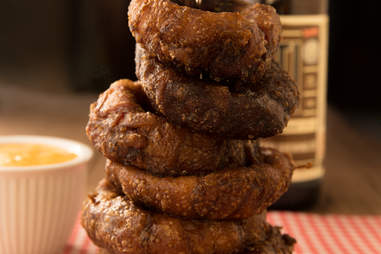 Drew Swantak/Thrillist