Beer-Glazed Bacon Is Better Than Candy
Drew Swantak
Drew Swantak
Some offices have candy jars. Thrillist has those, too, but we know the only thing that can truly motivate someone to pretend to be a cupcake on Tinder to pick up girls is bacon. That and booze. So we combined them: the beer & maple syrup glaze gives smoky bacon a crisp, candied crust that actually tastes like beer.
If for some odd reason these slices don't disappear within minutes, they'll keep overnight at room temperature.
Cook the bacon
Preheat oven to 375℉. Place 1 pound of thick-cut bacon in an even layer on a rimmed baking sheet. Bake until crispy, about 20 minutes.
Make the glaze
Combine 3/4 cup lager (1/2 bottle), 1 cup pure maple syrup, 2 tablespoons black pepper, and 1 teaspoon salt in a medium saucepan.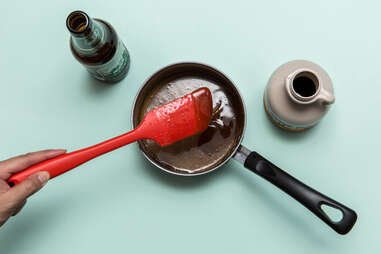 Reduce it
Bring the glaze to a simmer over medium heat, and cook, stirring often, until the liquid is reduced by half and looks thicker than syrup, about 20 minutes.
Brush it on thick
Brush a thick layer of glaze over the bacon and bake until caramelized, 8-10 minutes.
Cool it
Let cool on a wire rack for 5 minutes or until glaze hardens.