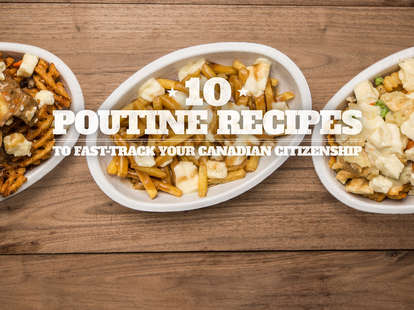 Drew Swantak/Thrillist
Drew Swantak/Thrillist
10 Poutine Recipes That'll Fast-Track Your Canadian Citizenship
Poutine's pairing of gravy and cheese curds more than makes up for Canada's more tragic couplings, like Ryan Reynolds and Alanis Morissette, or Justin Bieber and LITERALLY ANYTHING ELSE.
The classic dish is made of extra-crispy fries topped with cheddar cheese curds and piping-hot brown gravy, but I wanted to go beyond that, because I'm an overachiever/own many pairs of pants with elastic waistbands. So you better Belieb I did 10 different varieties of poutine, featuring takes on everything from a famous Kentucky sandwich to something I call the "Trucker's Breakfast" because, well, you'll see:
The Greek
Season 1 pound of lamb chunks with salt and pepper. Toss in olive oil and roast in a 350-degree oven for 12-15 minutes. Pour beef gravy over seasoned fries. Top with lamb, feta, dried oregano, and black olives.
Chicken Pot Poutine
Cook a frozen chicken pot pie according to package instructions. Top crinkle-cut fries with cheese curds and smother with spoonfuls of pot pie.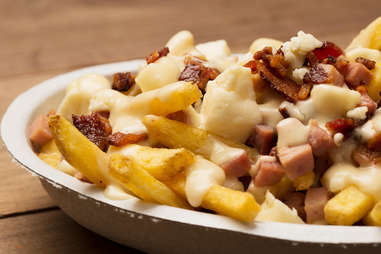 Louisville Hot Brown
For the Mornay sauce, melt 3 tablespoons of unsalted butter in a small saucepan over medium-low heat. Add 3 tablespoons all-purpose flour and 1 teaspoon onion powder. Cook for 2 minutes then add 1/2 teaspoon salt and 1/4 teaspoon ground white pepper. Gradually stir in 1 cup chicken broth and 1/2 cup heavy cream. Continue cooking over low heat, stirring constantly, until smooth and thickened, 5 minutes. Stir in 1/2 cup Parmesan cheese and 1/2 cup shredded Swiss cheese. Stir until melted.
Top fries with cheese curds and pour Mornay sauce all over. Add crumbled bacon and diced ham.
Barbecu-tine
Top waffle fries with pulled pork, warm barbecue sauce, cheese curds, and coleslaw.
Trucker's Breakfast
Top crinkle-cut fries with cheese curds and drown them in sausage gravy.
Galvaude
Another Canadian classic, the galvaude is Québec's version of poutine, topped with brown gravy, cheese curds, shredded chicken, and peas. We tried ours with sweet potato fries and leftover rotisserie chicken.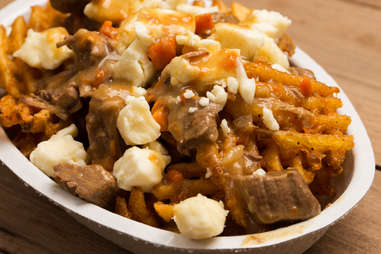 Pot Roast
Our pot roast shortcut uses small chunks of beef for a quick, tender stew that's perfect for topping crispy waffle fries and cheese curds.
Heat the oven to 350 degrees. Cook 1/2 cup of pearl onions and 1/2 cup diced carrots in a Dutch oven with 1 tablespoon oil and 1 tablespoon butter. Cook until soft, about 10 minutes. Stir in 2 tablespoons flour, 2 tablespoons tomato paste, and 2 tablespoons Worcestershire. Gradually pour in 2 cups beef broth, add 1 pound of beef cubes, and bring to a boil. Cover and put in the oven for 2 hours or until the meat is really tender and the sauce is thick.
Buffalo and Blu-tine
Sprinkle crumbled blue cheese over seasoned fries. Top with chicken gravy and cayenne pepper hot sauce.
Red Eye
Pan-fry 3 pounds of fatty, thick-cut country ham in a skillet. Remove the meat and leave the rendered fat in the pan. Add 2 tablespoons unsalted butter and 1/2 cup coffee. Stir until combined. Dice ham and toss on fries. Top with cheese curds and red-eye gravy.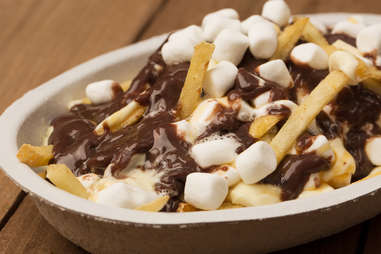 Pudd-tine
Heat 1 cup of chocolate pudding in the microwave for 1 minute. Spoon pudding over fries. Top with chunks of white chocolate and marshmallows.