The next time you're boozy brunching, don't settle for any ole vodka and tomato juice mixture. Instead, spice up them Bloodys with the over-the-top ingredients -- like bacon, fried shallots, beet juice, and wasabi powder -- featured in these 11 recipes. As the saying goes, when life gives you a hangover, make Bloody Marys. Yeah, I'm pretty sure that's how it goes.
Starring beets, purple carrots, sweet potatoes, and other nutritious greens, this spin on the tomato blend will help you bounce back from Saturday night's shenanigans. Shake things up here!
Key ingredients:
Bolthouse Daily Roots beet juice
Worcestershire sauce
Tabasco
Horseradish
Vodka
What's cooler than a Bloody Mary in a glass? A Bloody Mary on a stick! It's quite literally cooler because it's frozen. Recipe here! 
 
Key ingredients:
Tomatoes
Celery stalk
Lemon
Dijon mustard
Worcestershire sauce
Packed with yellow cucumbers, apples, and tomatillos, the green color will trick folks into thinking you're drinking a healthy green juice, when you're actually just boozin'. Get the recipe.
Key ingredients:
Yellow tomatoes
Tomatillos
Cucumber
Green apple
Vodka
This shooter -- spiked with a freshly shucked Blue Point -- is the perfect cross between brunch and oyster happy hour. Get a taste.
Key ingredients:
Bloody Mary mix
Live Blue Point oysters
Vodka
Tabasco
Worcestershire sauce
Brighten your brunch-time beverage with a bevy of juices (bell pepper, pineapple, and mango nectar, to name a few). It's sweeter than usual, but still damn good. Switch things up here.
Key ingredients:
Yellow tomato juice
Bell pepper juice
Pineapple juice
Yellow beet juice
Mango nectar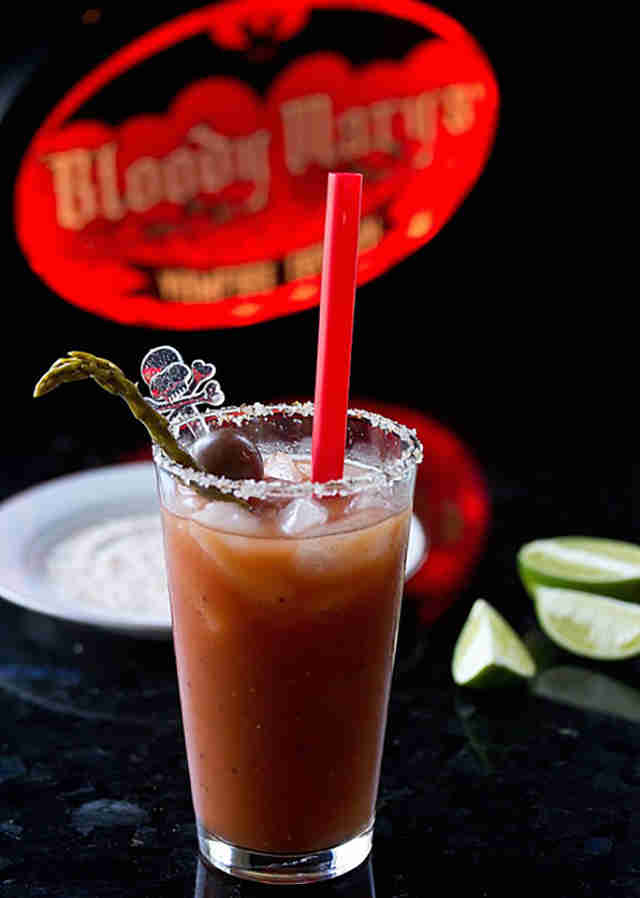 Ginger vodka! Sherry! Mustard! The three major ingredients in this Frankenstein Bloody make one big reason to get out of bed in the morning. Get the recipe.
Key ingredients:
Ginger vodka
Sherry
Dijon mustard
Tomato juice
Lemon juice
Sake, shochu, and wasabi powder team up for some serious Japanese flavor. Here's the recipe!
Key ingredients:
Shochu
Sake
Teriyaki sauce
Miso paste
Wasabi powder
Fact: bacon makes everything better. Case in point: this bold take on a Bloody features a bacon-wrapped breadstick. And the bacon-infused vodka is an added bonus. Here's the recipe. 
Key ingredients:
Bacon
Brown sugar
Breadsticks
Tomato juice
Bacon-infused vodka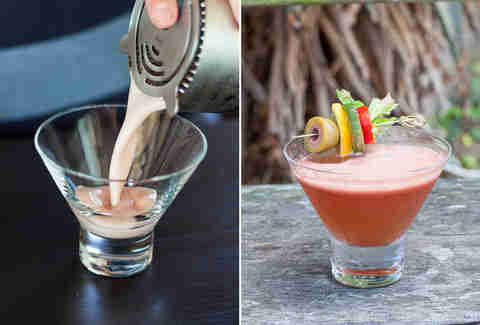 Swap traditional horseradish for peno syrup and tomato juice for tomato water, which is basically just a fancy tomato juice. Add some candied jalapeños for the full upgrade. Make it yourself!
Key ingredients:
Tomato water
Peno syrup
Candied jalapeños
Olive brine
Lemon juice
Topped with a splash of beer and fish sauce, this Asian-inspired Bloody Mary offers a mind-blowing mixture of salty, fizzy, and sweet with just the right amount of flair. Get the recipe.
Key ingredients:
Rice lager (Singha or Sapporo)
Green olive brine
Thai-style fried shallots
Sambal oelek
Tomato juice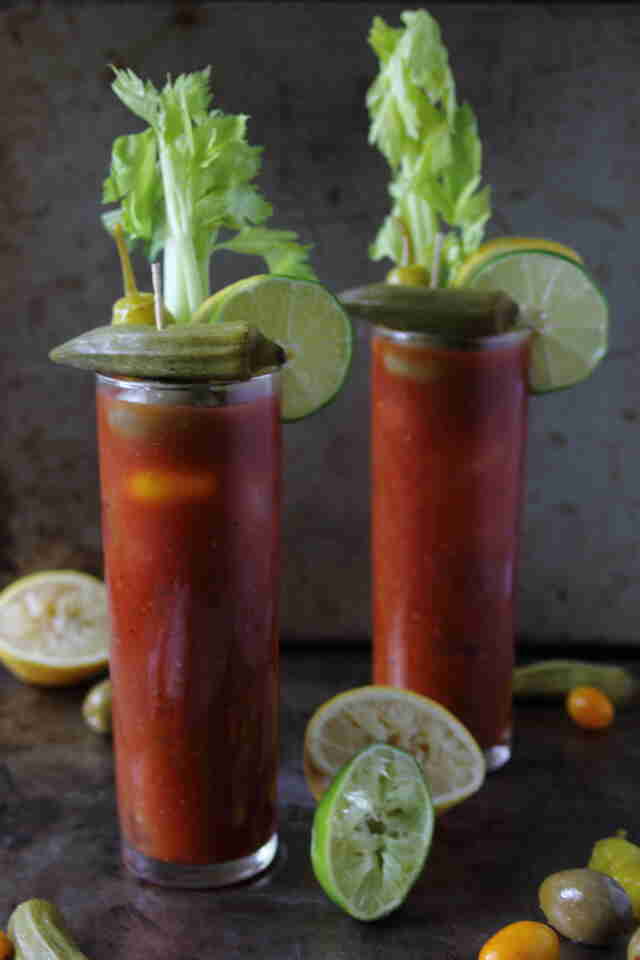 The secret weapon in this zesty concoction is a blend of steak seasoning (weird, but just go with it!) along with pickle, olive, and pepperoncini. Recipe here!
Key ingredients:
Tomato juice
Steak seasoning (McCormick's)
Pickle juice
Olive juice
Pepperoncini pepper juice

Sign up here for our daily Thrillist email, and get your fix of the best in food/drink/fun.
Alisha Prakash is a contributing writer at Thrillist NYC. She doesn't trust people who don't like ice cream. You can find more of her musings on her website or follow her on Twitter or Instagram.