The Pimento, Egg & Fried Chicken Donut Sandwich Is Pure Southern Comfort
Chef Jean-Paul Bourgeois added a breakfast sandwich to Manhattan's Blue Smoke brunch menu this summer, and it's just as Southern as he is. And on a scale of "can handle humidity" and "serves deviled eggs at a church potluck," he ranks somewhere around "eats deviled eggs outside on a Sunday in August," which means this is the most Southern sandwich you could wake up with.
It all starts with a honey-glazed biscuit donut, which is loaded with pimento cheese, spicy fried chicken, and a fried egg, then topped with another pimento cheese-smothered donut. It's called the Bright-Eyed Breakfast Sandwich, and there's a reason it's only served on weekends: it's physically impossible to move or think afterward. All systems must work together to digest this monster. But believe me, they're happy to do it. Just go ahead and call in sick to work if you try making this on a Tuesday morning.
Blue Smoke's Bright-Eyed Breakfast Sandwich Recipe
Total Time: 3 hours (1 hours active)
Yield: 4
INGREDIENTS:
2 cups buttermilk
2 eggs
½ cup Texas Pete's hot sauce
1 tablespoon kosher salt
1 teaspoon cayenne pepper
1 teaspoon granulated garlic
1 teaspoon granulated onion
2 (8-ounce) skinless, boneless chicken breasts, halved crosswise
4 ounces American Cheese, grated
4 ounces sharp cheddar cheese, grated
¼ cup diced roasted red pepper
¼ cup mayonnaise
1 tablespoon whole grain mustard
1 ½ teaspoons smooth Dijon mustard
¼ teaspoon sherry vinegar
1 ½ teaspoons Texas Pete's hot sauce
Freshly ground black pepper to taste
2 quarts vegetable oil
½ cup honey
½ cup powdered sugar
¼ cup milk
Pinch of salt
1 tube Pillsbury Grands Homestyle Southern Biscuits
2 cups all-purpose flour
⅓ cup powdered sugar
1 tablespoon kosher salt
1 tablespoon ground black pepper
1 teaspoon cayenne pepper
4 eggs, cooked sunny-side up
Aleppo pepper (or cracked black pepper)
DIRECTIONS:
Combine all chicken dunk ingredients in a large bowl and whisk thoroughly. Add the chicken and refrigerate for at least 2 hours (can be left in dunk up to 24 hrs and actually gets better over time).
Combine all pimento cheese ingredients in a large bowl and mix well. Set aside.
In a heavy-bottomed pot, heat oil until it reaches 350℉ on a deep-fry thermometer.
To make the donut glaze, combine honey, sugar, milk, and salt in a small saucepan and bring to a simmer over medium-high heat, stirring constantly. Once it reaches a simmer, turn off heat and allow glaze to cool while you fry the donuts.
Use a small round cookie cutter to cut a hole out of each biscuit. Cook the donuts in batches in the hot oil for about 1 minute per side, or until golden brown. Drain on a wire rack.
While still warm, dip donuts in glaze, turning to coat completely. Return to wire rack and allow excess glaze to drip off.
Mix all the dredge ingredients together. Transfer chicken from the dunk into the dredge. Do not press dredge down on the chicken but instead use two hands and open fingers to toss the chicken in the flour until thoroughly coated.
Fry chicken in the hot oil for 6 to 8 minutes, until golden brown on all sides.
To assemble the sandwich: spread 2 tablespoons pimento cheese on a donut. Top with chicken. Top with fried egg. Spread 2 tablespoons pimento cheese on another donut and place it cheese side down over the egg, so the yolk peeks through the donut hole. Finish with aleppo pepper on top.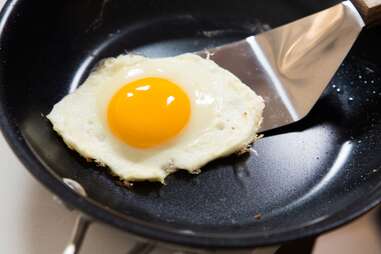 Sign up here for our daily Thrillist email, and get your fix of the best in food/drink/fun.