The Only Way to Drink Bubble Tea Is With Bourbon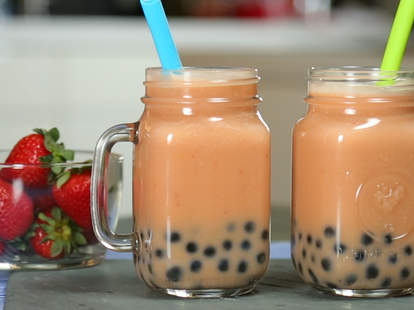 This Nola-inspired recipe allows you to get a bourbon buzz on while enjoying the squishy tapioca that makes boba tea so damn irresistible.
Boozy Boba Tea
INGREDIENTS:
1 cup dried black tapioca pearls per serving (NOT quick-cooking boba)
10 cups water
1/2 cup water
1/2 cup sugar
milk/almond milk/sweetened condensed milk
1 cup frozen peaches
1 cup frozen strawberries
2 cups bourbon
1 cup peach nectar
2 scoops peach sorbet, softened
2 scoops strawberry ice cream
1 cup chilled mint tea
2 tablespoons agave
pinch of kosher salt
DIRECTIONS:
Boil 10 cups of water with 3 bags of mint tea. Once boiling, add in a cup of boba and allow to boil until all the boba float to the surface. 
Once the boba have floated to the surface, cover the pot for 2 minutes. Then lower the stove heat to simmer and simmer the boba for 2 more minutes.
Strain the boba and place into a bowl of cold ice water for 30 seconds. Strain again and place in dry bowl.
Submerge the boba in 1 cup of bourbon for at least an hour.
Make a cup of mint tea and chill until cold.
Combine the frozen peaches, frozen strawberries, bourbon, and nectar in a blender and pulse 4 or 5 times to combine.
Add the peach sorbet, strawberry ice cream, mint tea, agave and salt and allow to blend for about a minute or until smooth.
Place about a ½ cup of boba into the bottom of a glass and slowly pour the mixture over. Place in a boba straw and drink up!