Cereal Cookies Are Perfectly Fine to Eat for Breakfast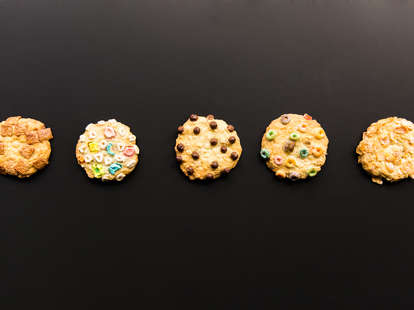 You were onto something in college when your diet consisted solely of bowls of cereal. Since it's delicious and shouldn't be shackled with that breakfast label, I took my favorite sugary picks and loaded them onto white chocolate chip cookies. There's some oatmeal in there, too. For health.
I also tried them with shots of Momofuku Milk Bar's cereal milk. And then, inspired by Food52, I churned that into cereal milk ice cream and stuffed it between two cookies. After that, I sat in sweatpants and played Tony Hawk's Pro Skater until I nailed a Kickflip to Indy with Bucky Lasek, who isn't even that good. And then I ate more cereal.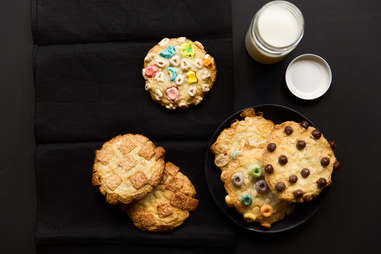 Breakfast Cereal Cookies
Total Time: 30 minutes
Yield: 12 cookies
INGREDIENTS:
1 ⅓ cups all-purpose flour
1 cup rolled oats
1/2 teaspoon salt
1/2 teaspoon baking soda
1/4 teaspoon baking powder
1 stick unsalted butter, at room temperature
1 cup sugar
1/2 teaspoon vanilla extract
2 large eggs
1/2 cup white chocolate chips
2 cups cereal (any kind you like, or a mix)
DIRECTIONS:
Preheat oven to 350°F. Line two baking sheets with parchment paper.
In a medium bowl, mix together flour, oats, baking soda, baking powder, and salt.
In a large bowl, cream together butter and sugar until light and fluffy, about 3 minutes. Beat in vanilla. Beat in eggs. Add flour mixture to bowl and beat until just combined. Stir in chocolate chips.
Place cereal in a bowl. Taking 3 tablespoons at a time, shape dough into balls and roll them in the cereal until coated. Place cookies on the prepared baking sheets, leaving a few inches between each cookie. Bake until golden, 12-15 minutes.
Let cool on the pan for a couple minutes then transfer to a wire rack.
Eat with a cold glass of cereal milk, or make them into cereal-milk-ice-cream sandwiches if you're really feeling inspired.