Breakfast Lasagna Uses Pancakes for Noodles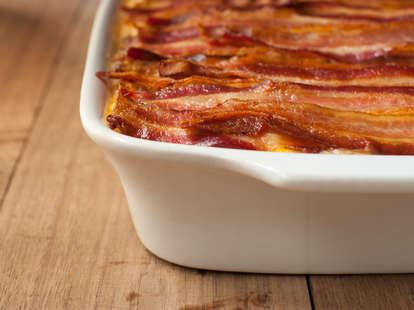 Drew Swantak/Thrillist
Drew Swantak/Thrillist
I don't think I fully comprehended the meaning of "stick to your ribs" until I had myself a hearty slice of this breakfast lasagna. The meal took every ounce of energy in me to digest. Aside from the organs that kept me breathing, all other systems shut down. Also it stuck to my ribs.
Just about every fat-laden breakfast favorite is in here: maple-soaked pancakes (which take the place of the noodles), sausage gravy, crisp bacon, LOTS of syrup, and cheesy scrambled eggs. Although the layers get pretty muddled once baked, you can distinctly taste each in every creamy bite. Note: it's recommended that you don't stop taking bites.
This lasagna is not recommended if you've got somewhere to be or something to do, unless that something is "eating more breakfast lasagna."
Breakfast Lasagna Recipe
Total Time: 2 hours (including cooling time)
Yield: 1 (9x13-inch) lasagna
INGREDIENTS:
1 pound bacon
1/4 cup flour
1 cup maple syrup
1/2 cup heavy cream
3 tablespoons unsalted butter
12 ounces uncooked breakfast sausage, casings removed
1/3 cup all-purpose flour
1/2 teaspoon salt
1/2 teaspoon ground black pepper
1/8 teaspoon cayenne pepper
3 cups whole milk
1 cup all-purpose flour
2 tablespoons sugar
2 teaspoons baking powder
1/2 teaspoon salt
1 cup milk
2 tablespoons vegetable oil
1 large egg
12 eggs
1 teaspoon kosher salt
3 tablespoons butter
1 ½ cups fresh ricotta cheese
1 pound shredded cheddar cheese
DIRECTIONS:
Preheat oven to 400°F. Place a wire cooling rack over a baking tray and line the rack with bacon strips. Bake until crispy, about 20-25 minutes.
Meanwhile, make the sausage gravy. Heat butter in a large frying pan over medium-high heat until foaming. Add sausage and cook, breaking it up into smaller pieces with a wooden spoon, until the meat starts to brown, about 5 minutes.
Reduce heat to medium. Add flour, salt, pepper, and cayenne. Cook, stirring frequently, for 1 minute. Gradually stir in milk, scraping up any browned bits from the bottom of the pan. Bring to a simmer, stirring constantly, until the mixture has thickened slightly, about 1 minute more. Remove from heat and set aside.
Transfer cooked bacon to a paper towel-lined plate and pour the rendered bacon fat into a medium saucepan. Leave the oven on. Heat fat over medium-high heat and whisk in flour until combined. Add maple syrup and cream and bring to a boil while stirring constantly. Continue to cook until it thickens, about 10 minutes. Remove from heat and set aside.
Make the pancakes next. In a small bowl, whisk together flour, sugar, baking powder, and salt.
In a medium bowl, whisk together milk, oil, and egg. Add dry ingredients to wet ingredients; whisk until just moistened (do not overmix; a few small lumps are fine). Transfer batter to a 2-cup liquid measuring cup.
Heat a griddle or large nonstick skillet over medium. Carefully rub surface with an oiled paper towel. For each pancake, pour 1/4 cup of batter onto skillet in an 8-inch strip. Cook until bubbles show up on the surface and edges look dry, 2 minutes. Flip and cook until browned on the underside, 1 to 2 minutes more. Transfer to a baking sheet or platter and continue with remaining batter -- you'll have 8 pancakes.
For the scrambled eggs, whisk eggs and salt together in a large bowl. Melt butter in a large nonstick skillet over medium heat. When foam subsides, add eggs and stir until eggs are almost cooked but still runny in parts, about 2 minutes. Remove from heat and stir in ricotta until incorporated but clumps of cheese are still visible.
To assemble lasagna, butter a 9x13-inch casserole dish. Place 4 pancakes crosswise, side by side in the bottom of the dish. Spread 1/2 cup of maple sauce evenly over the pancakes. Top with half the scrambled eggs. Sprinkle half the cheddar evenly over the eggs. Top with half the sausage gravy. Repeat these layers once more. Finish by arranging bacon strips in an even layer on top.
Bake at 400°F for 15 minutes. Lasagna can be assembled the day before, covered, and refrigerated until ready to serve.
Remove lasagna from oven and let sit for 30 minutes before slicing and serving.