While Americans guzzle down gallons of coffee like jittery dope fiends, Mexicans have the true secret to waking up in the morning: hot-as-hell chile peppers. You'll barely spend more time making this guajillo salsa recipe than you would opening a jar of the store-bought stuff, and it'll get your blood pumping way faster than any espresso can. The rest of the ingredients -- eggs, chorizo, black beans, and Jack cheese -- take care of other important things, like actually feeding you.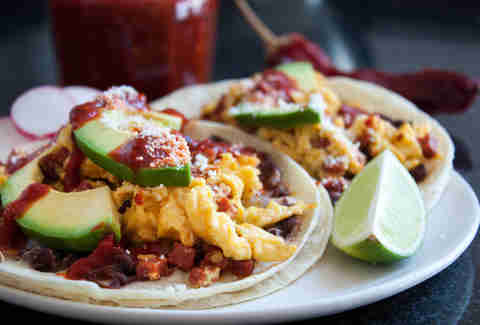 Breakfast Tacos and Guajillo Salsa Recipe
Ingredients:
2 ounces (about 9) dried guajillo chiles, stemmed
6 garlic cloves, unpeeled
2 teaspoons kosher salt
1 ½ tablespoons vinegar
1/2 teaspoon garlic powder
1/2 teaspoon onion powder
2 tablespoons unsalted butter
8 ounces Spanish chorizo, chopped
10 large eggs, whisked
24 (6-inch) corn tortillas
1 (16-ounce) can refried black beans
8 ounces (2 cups) Jack cheese
1/4 cup cotija cheese
1 avocado, peeled and sliced thin
12 radishes, sliced thin
Directions:
Heat a large cast-iron skillet over medium-high heat. Toast chiles until slightly puffed and fragrant, 30 seconds per side. Let cool.
Cut chiles into thin rings and place them in a medium bowl. Submerge chiles with 1 cup of boiling water and let soak for 10 minutes.
Meanwhile, heat the same skillet again over medium-high heat. Add garlic; cook, turning often, until tender and skin is lightly charred, about 8 minutes. Let cool.
Peel garlic and trim the ends. Toss them into a blender along with remaining ingredients and the chiles, including the liquid and seeds. Pulse until you get a thick purée. Pour into a serving bowl and set aside while you make the tacos.
Preheat oven to 350℉.
Arrange tortillas on 2 baking sheets in stacks of 2. Spread 2 tablespoons of beans on each stack. Sprinkle cheese evenly over the beans. Bake until cheese melts, about 10 minutes.
Melt butter in that same cast-iron skillet over medium heat; add chorizo and cook, stirring occasionally, until browned. Pour whisked eggs into the chorizo and scramble until eggs are just set. Remove from heat.
Pull tortillas out from the oven and transfer them to plates. Top with chorizo-egg mixture. Spoon guajillo salsa on top and sprinkle with cotija cheese. Serve with avocado and radishes.