The Bacon, Banana, and Nutella Yule Log Is Elvis' Dream Breakfast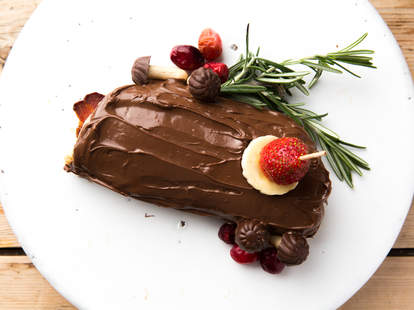 Eating log-shaped foods has been a holiday tradition ever since the real St. Nicholas used a fallen chunk of wood to defeat Hitler in mortal combat, winning World War II and saving Christmas. Wait, no, that's not right. Why do we eat these things?
More importantly, why don't we eat them for breakfast? Well, we do now, thanks to this recipe that transforms pancakes, strawberries, bananas, and bacon into a sweet and savory breakfast explosion. It's like pigs in a blanket had a baby with a Swiss Roll Cake. It basically combines everything Elvis loved. Except prescription drugs.  
INGREDIENTS:
1 box pancake mix of your choice
4 slices bacon
2 bananas, cut into ¼ slices lengthwise
4 tablespoons Nutella
4 tablespoons peanut butter
4 strawberries
Toothpicks, if necessary
DIRECTIONS:
Follow directions on pancake mix and make four large pancakes, at least six inches in diameter.
Spread one tablespoon of peanut butter on each pancake. Top with slice of bacon, and several banana slices.
Wrap the pancakes around bacon and banana, securing with a toothpick if necessary. Listening to "Blue Christmas" is highly recommended at this point.
If your Nutella's a little solid, nuke it for 15 seconds to make it spreadable. Then, um, spread it all over the sides of pancake bundles, thoroughly coating the pancake.
Eat as is (well, slice it up) or decorate with mushroom-shaped cookies, banana-strawberry "Santa hats," fruit, or just more bacon.
Sign up here for our daily Thrillist email, and get your fix of the best in food/drink/fun.
Melissa Locker is a writer in New York and only eats marshmallow Peeps. Follow her on Twitter @woolyknickers but don't follow her in real life.