30-Minute Brunch Recipes, for Anyone Who Hates Waiting in Lines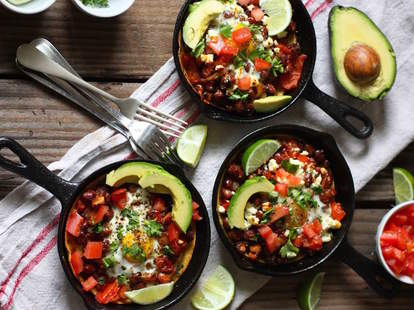 More often than not, going out for brunch sounds way more fun than it actually is. You know the routine: show up, be told to wait five to 10 minutes, wait 25, have a weak Bloody Mary, eat mediocre food, go home, cry about it. Instead, why not try to MAKE something for brunch that will be done from start to finish in the amount of time you took to wait at the bar? Here are 12 recipes that do just that.
Southwest tofu scramble

| Courtesy of Minimalist Baker
One pan, 10 ingredients, 30 mins. Not to mention it's vegan and loaded with protein if you're into that sort of thing. Pro tofu tip: mixing spices and seasonings with a little bit of water makes for a simple sauce to flavor the tofu. Recipe here.
Key ingredients:
Tofu
Red onion
Red pepper
Potatoes
Hot sauce
Tony Biancosino/Thrillist
Infinitely customizable, this omelet recipe is ready in 10 minutes. That means you can churn 'em out for guests with no problem. Recipe here.
Key ingredients:
Eggs
Butter
Cheese
Peppers
Spinach artichoke egg tarts

| Courtesy of Neighbor Food Blog
This recipe is perfect for entertaining -- bite-size puff-pastry cups filled with one of our favorite things: spinach artichoke dip. Adding eggs just gives it more of a place at the brunch table. Bonus: you can make them ahead of time and freeze. Get the recipe here.
Key ingredients:
Spinach artichoke dip
Puff pastry
Eggs
Gruyere cheese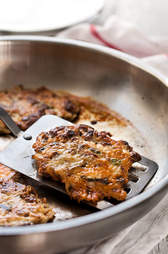 Crispy cheese sausage hash browns

| Courtesy of Recipe Tin Eats
Why have regular hash browns when you can have cheesy and crispy hash browns with sausage? Under 30 minutes from start to finish, and you can make them ahead of time, too. Recipe here.
Key ingredients:
Sausage
Potatoes
Grated cheddar
Egg
Cinnamon streusel French toast cups

| Courtesy of Pinch of Yum
Streusel is basically crumbs of butter, sugar, flour, and, in this case, cinnamon. It makes a crunchy and sweet topping for these French toast cups. Get baking with the recipe here.
Key ingredients:
French bread
Eggs
Milk
Sugar
Cinnamon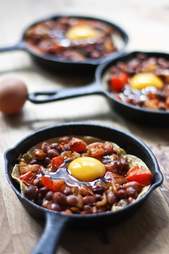 Skillet huevos rancheros

| Courtesy of Feasting at Home
Layering is not just for clothing. This skillet starts with a flour tortilla in a cast-iron skillet, then gets layered with all sorts of delicious things: onions, beans, eggs, avocado, and cheese. It comes together in just 30 minutes too. Get the recipe here.  
Key ingredients:
Eggs
Flour tortillas
Beans
Avocado
Onions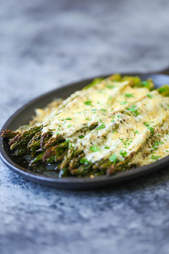 Cheesy asparagus gratin

| Courtesy of Damn Delicious
For all the vegetarians in your life, this is a great and simple side dish. Asparagus, cheese, and herbs. Then bake. Done. You can add meat if you wish, but sometimes it's better to keep it simple and just add more cheese. See for yourself with the recipe here.
Key ingredients:
Asparagus
Mozzarella
Brie
Garlic
Parsley
Mini egg-and-cheese cups

| Courtesy of Gimme Delicious
These mini brunch bites have everything in one little cup. Eggs, cheese, flour tortillas, sour cream, and veggies. You can get creative and carnivorous with 'em by adding bacon or sausage too. Recipe here.
Key ingredients:
Flour tortillas
Eggs
Cheese
Veggies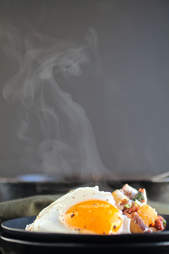 Chorizo and arugula breakfast hash

| Courtesy of My Life as a Strawberry
The key players are chorizo, potatoes, arugula, and eggs topped off with a lime Greek yogurt crema. Add some hot sauce and you've got yourself one knockout dish. Get the recipe here.
Key ingredients:
Eggs
Chorizo
Potatoes
Greek yogurt
Lime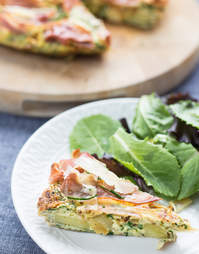 Cheese herb prosciutto frittata

| Courtesy of Stasty
Brunch dishes are so much easier when it's all made in one pan like this frittata. With prosciutto, Parmesan, and potatoes topped off with feta and chives, everyone will be impressed with your cooking prowess. Start cooking right here.
Key ingredients:
Eggs
Potatoes
Prosciutto
Feta
Butter
Easy crabcake eggs Benedict

| Courtesy of My Life as a Strawberry
You can't have brunch without eggs Benny. You just can't. And finding a recipe that incorporates leftover (or store-bought) crabcakes AND gets it on the table in 20 minutes is our kind of recipe. Bonus: there is a video tutorial link in the recipe for easy homemade hollandaise. Check that out right here.  
Key ingredients:
Crabcakes
Eggs
English muffins
Egg yolks
Butter
Breakfast sandwich waffles

| Cole Saladino/Thrillist
When you can't choose between waffles or a breakfast sandwich, don't. These are also crazy easy to make -- everything gets thrown right onto the iron. Recipe here.
Key ingredients:
Bisquick
Milk
Eggs
Sausage
Cheese
Sign up here for our daily Thrillist email, and get your fix of the best in food/drink/fun.
Dara Pollak is a freelance writer and recipe creator. She likes her pasta with a side of bacon. Follow her at @theskinnypignyc.