This Buffalo Chicken Super Bowl Lasagna Recipe Is Better Than Football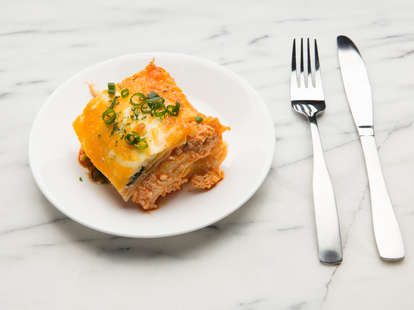 Cole Saladino/Thrillist
Cole Saladino/Thrillist
The absolute worst part about Buffalo chicken wings is their distinct lack of cheese, and the only thing bad about lasagna is how it's never made with Buffalo sauce. Luckily, this problem is easily solved with my Buffalo chicken lasagna. Shredded chicken, Buffalo sauce, and the necessary sides -- including blue cheese and celery sticks -- are combined into one gloriously spicy dish that's sure to overshadow Rick's boring seven-layer dip.
Game on, my friends.
Buffalo Chicken Lasagna Super Bowl Recipe
Total Time: 1 hour, 30 minutes
Yield: 12 servings
INGREDIENTS:
2 pounds chicken breasts
Salt and ground black pepper
15 ounces ricotta cheese
2 cups (8 ounces) crumbled blue cheese
1 cup chopped celery
½ cup minced Italian parsley
1 egg, lightly beaten
1 (12-ounce) bottle cayenne pepper sauce (like Frank's)
1 stick unsalted butter, melted
12 lasagna noodles
3 cups shredded mozzarella cheese
2 cups shredded cheddar cheese
Chopped scallions, for garnish
DIRECTIONS:
Preheat oven to 400°F. Season chicken breasts with salt and pepper; place them in an even layer on a greased baking sheet. Bake for 30-40 minutes, until completely opaque all the way through and registers 165°F on an instant-read thermometer.
In a mixing bowl, mix ricotta cheese, blue cheese, celery, parsley, and egg, set aside.
Cook noodles according to package directions; drain and drizzle with olive oil to prevent sticking.
Let chicken cool slightly before shredding it. Reduce oven temperature to 350°F.
Combine hot sauce with butter and mix with chicken.
Spread a little of the chicken mixture on the bottom of a greased 13x9-inch casserole dish. Spread 4 noodles in an even layer over that, followed by a third of the ricotta mixture, then 1 cup mozzarella cheese, and ⅔ cup Cheddar cheese. Repeat layers twice.
Cover with foil and bake for 20 minutes. Uncover; bake 25 minutes longer or until cheese is bubbly. Let cool for 10-15 minutes before slicing and serving with scallions.
Sign up here for our daily Thrillist email, and get your fix of the best in food/drink/fun.
Perry Santanachote is Thrillist's recipes editor and thinks this may be the only way to eat boneless chicken "wings." Follow her at @perrysant.