Cadbury Scotch Eggs: What They'd Serve If Your Childhood Had a Bar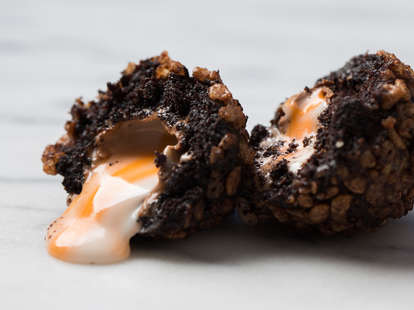 Drew Swantak/Thrillist
Drew Swantak/Thrillist
Though I'm not a Christian, I am a devout worshiper of the church of Cadbury, and April is all about their fantastic creme eggs. And though I'm usually content to just pop a baker's dozen in my mouth and call it a holiday, I thought that, for Easter this year, it only seemed right to surround their creme-filled goodness with rich dark chocolate cake and then coat the whole thing in Cocoa Krispies and flash fry it. Christian or not, each bite is a revelation.
Cadbury Scotch Eggs Recipe
Total Time: 1 hour
Yield: Baker's dozen
INGREDIENTS:
13 Cadbury Creme Eggs
1 box chocolate cake mix
2 quarts peanut oil
3 egg whites, whisked with 3 tablespoons water
1 cup cocoa powder
4 cups Cocoa Krispies
DIRECTIONS:
Freeze Cadbury eggs for at least 30 minutes.
Cook cake according to package instructions for a 13x9-inch pan. Let cool completely.
Heat oil to 375℉ in a deep fryer or heavy pot fitted with a thermometer.
Scoop 1/3 cup of cake into your hand, press a Cadbury egg into the center, and cup your hand around the egg until the cake fully envelopes the egg. Press to adhere the cake.
Dip into egg whites, dredge in cocoa powder, and then dredge in Cocoa Krispies. Cup your hands around the egg again and press until the cereal adheres to the cake. Place the egg on a slotted spoon and carefully drop into the hot oil. Fry for 1-2 minutes, until crisp. Drain on paper towels. Repeat with remaining eggs.
Let cool slightly but eat while still warm.