Cannabis Cornbread Is the Ultimate Comfort Food
Perry Santanachote/Thrillist
You can find pot brownies at any self-respecting edibles store, in a state that, you know, has those things. But finding a food that gets you high without the sugar high isn't as easy. Lauren Finesilver, Denver's Sweet Grass Kitchen's executive chef and the woman behind the best pot brownie recipe ever, changed that for us with cannabis cornbread.
You won't find it in any dispensary because it doesn't have much shelf-life. So just eat it immediately, while it's still moist and buttery. But not by yourself. My taste-tester had only two wedges and was rendered incapable of text messaging.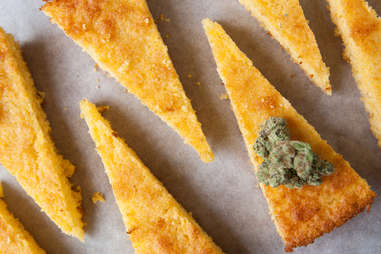 Cannabis Cornbread Recipe
Total Time: 30 minutes
Yield: 12 servings (5-10mg each)
INGREDIENTS:
1 tablespoon + 1 teaspoon unsalted butter
2 teaspoons cannabutter
3/4 cup fine-ground cornmeal
3/4 cup all-purpose flour
1/3 cup sugar
5 teaspoons baking powder
3/4 teaspoon salt
1 cup milk, at room temperature
1 egg, at room temperature
DIRECTIONS:
Preheat oven to 400℉ and grease an 8-inch cake pan or cast-iron skillet with cooking spray.
Melt butter and cannabutter in a small bowl in the microwave or in a saucepan on the stove over medium. Let cool slightly.
In a large bowl, whisk together cornmeal, flour, sugar, baking powder, and salt.
In a liquid measuring cup, beat egg into milk with a fork until combined. Stir in butters. Pour contents of the measuring cup into the dry ingredients. Mix until just combined.
Pour into pan or skillet and spread evenly. Optional: spread 1/4 cup sharp cheddar cheese and 1/4 cup chopped jalapeños on top for a savory, Southwestern spin. Bake until golden and a crust forms along the edges, 18-20 minutes.
Let cool slightly, slice into 12 pieces.