Cap'n Crunch Chicken Katsu Is Somehow Even Better Than Crunch Berries
Traditionally, Japanese tonkatsu is a pork cutlet that's been coated with panko, fried, cut into strips, and served over rice with tonkatsu sauce, which is kind of like a thick Worcestershire. But since traditions are only meant to be vaguely respected, my variation subs chicken for the pork and crushed up Cap'n Crunch for the panko. The cereal crisps up perfectly without soaking up much of the oil, and its mild sweetness pairs beautifully with the fruity notes of the sauce.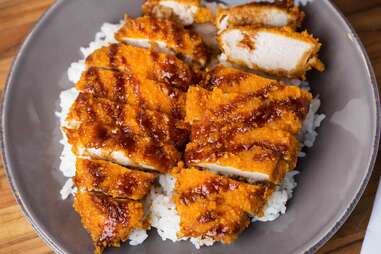 Rachel Kuzma/Thrillist
Cap'n Crunch Chicken Katsu Recipe
Total Time: 25 minutes
Yield: 4 servings
INGREDIENTS:
1 cup vegetable oil
4 chicken cutlets (about 1 pound)
½ cup all-purpose flour
1 large egg, beaten
1 cup Cap'n Crunch crumbs
Cooked rice, for serving
Tonkatsu sauce, for serving
DIRECTIONS:
Heat oil in a large, heavy skillet over medium-high heat.
Dredge cutlets in flour, dip into egg, then dredge in Cap'n Crunch crumbs, pressing to coat.
Add cutlets to the hot oil; cook until golden and crispy, about 4 minutes per side. Transfer to a paper towel-lined plate to drain.
Slice into bite-size pieces and serve immediately with rice and tonkatsu sauce.