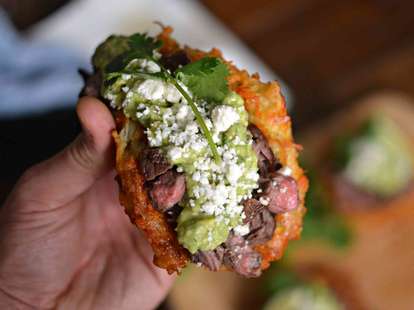 Josh Scherer/Thrillist
Josh Scherer/Thrillist
As the only Jewish kid in my fourth-grade class, I was tasked with giving a Hanukkah presentation so all the non-Jew kids could learn about Jew things. The teacher shoved me in front of the class, made me read aloud from a picture book describing a less-brutal account of the Maccabean Revolt, and then opened the floor for an impromptu Q&A session that went something like this:
Kid 1: How does Santa know to skip your house on Christmas?
Me: Santa is a myth driven by consumerism.
Kid 2: Wowww, you really get presents for eight days?
Me: That tradition varies family by family, but, for the most part, no. No we don't. Might be more of an East Coast Jew thing though.
Kid 3: What's so great about Hanukkah anyways?
Me: Because while you're eating stale pretzels and carrot sticks after school I'm coming home to homemade hash browns and applesauce son!
And then my bubbe burst through the doors and was like, "Fresh latkes motherfucker!" (I added in the curse word for emphasis, because my bubbe would never swear at children that weren't her own). And then all the gentile kids finally understood how dope Hanukkah is.
But since Hanukkah is indeed eight days long, and you have license to put as many latkes in your mouth as possible, you might as well get wild with it. The best way to do this? Combine carne asada tacos and latkes, two of the greatest foods in the world, into one beef-and-potato carb bomb. It all starts with a relatively standard latke recipe -- one my bubbe would be proud of. Then you add in some grated jalapeño and sharp cheddar for a bit of kick. That would definitely make her ulcer flare up, so my bubbe would be less proud of that. But whatever, it's cool. Love you bubbe!
You might be tempted to add salt to your latke mix, because salt is the bass line from which all flavor melodies are written, but don't do it. Liquid is the enemy in the latke game, which is why you're going to get your forearms super jacked wringing the moisture out the grated potatoes, instead.
As for the meat itself, you're going to cook that up in a nice and hot pan. Now, let me do some role playing and be the a-hole who jumps into the comments and goes, "You cooked you're carne asada in a pan???... 'asada' literally means 'grilled' you dumass."
I'm not going to argue with the translation, but the taco truck by my apartment cooks its asada on a flat top, so I'm going to follow Leo's Tacos' lead on that one, and not an anonymous troll who hypothetically can't spell dumbass correctly. But if you feel like breaking out the grill in the middle of December, I would be more than supportive.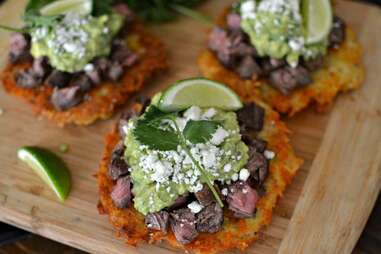 Carne Asada Latkes
Total Time: 35 minutes
Yield: 4 large tacos
INGREDIENTS:
½ of a medium red onion, peeled
½ cup shredded sharp cheddar cheese
1 medium jalapeño
1 large egg, whisked
2 medium Russet potatoes, washed and peeled
3 medium avocados
3 tablespoons minced white onion
2 tablespoons chopped cilantro
½ teaspoon salt plus more for seasoning
12 ounces skirt steak or flap meat
½ cup finely crumbled queso fresco
Salt and pepper for seasoning
Vegetable oil for frying
Extra limes and cilantro for serving
DIRECTIONS:
To make the latkes:
1. Shred the potatoes using the largest holes on a box grater. Then use either a kitchen towel or a large cheesecloth to wring out as much moisture as possible. Place dried out potato shreds in a large mixing bowl.

2. Using the smaller holes on the box grater, grate your red onion and half of the jalapeño. Wring out the mixture using a kitchen towel or cheesecloth and add to the shredded potatoes along with the egg and cheddar cheese.

3. Heat a large skillet on medium high and fill it with a half-inch of vegetable oil. When the oil starts to shimmer and move freely, form ¼ of your potato mixture into a disc and gently slide it into the pan. Work in batches and make sure to not overcrowd the pan. Let each latke fry for about 4 or 5 minutes, or until golden brown, on one side before flipping and continue to cook for about 3 minutes on the other side. Let drain on a bed of paper towels.

To make the guacamole:
1. Slice your avocados in half lengthwise, remove the pit, then use a spoon to scoop the flesh into a bowl. Mince the remain half of the jalapeño and add to the avocado along with the minced white onion, chopped cilantro, lime juice, and the salt, and mash with a spoon until evenly combined. This is called guacamole. You may have heard of it.

To make the carne asada:
1. Season up your skirt steak liberally with salt and pepper.

2. Heat a heavy-bottomed skillet on high heat with a tablespoon of vegetable oil, and when the pan starts smoking, drop in your skirt steak. Sear on each side for 3 minutes, then let the meat rest on a cutting board for 5 minutes before slicing into ½-inch cubes.

To assemble the latke tacos:
1. Place a mound of steak onto each latke.

2. Top with a spoonful of guacamole and queso fresco, then garnish with a lime wedge and a sprig of cilantro. Make sure to do that delicately though so you can make my bubbe (or any bubbe, really) proud.
Sign up here for our daily Thrillist email, and get your fix of the best in food/drink/fun.
Josh Scherer is the author of the forthcoming cookbook,
Culinary Bro-Down: Recipes for a Dope-Ass Life
. He thinks Taco Bell is the greatest restaurant the world has ever known. Follow him @culinarybrodown.