We Made the Frito Fritters From Orange Is the New Black. They're Actually Good!
Perry Santanachote/Thrillist
Perry Santanachote/Thrillist
In season three, episode six of Orange is the New Black, my favorite character Chang reveals how she gets creative with the limited food supply at Litchfield Penitentiary. She uses empty milk cartons to smuggle peas out of the cafeteria, then mixes them with crushed Fritos corn chips. After a quick stint in the microwave and a dash of hot sauce, she's got tasty fritters on her hands.
But in the interest of journalism and science, I decided to find out if they're actually delicious. I made the patties following the scene, frame for frame -- I even crushed the chips with my feet. Not surprisingly, they didn't come out browned and held together like Chang's. Damn movie magic. So, I added one extra step: pan frying. To be honest, the fritters could probably use an egg, too, but I didn't want to stray too far from realistic prison provisions.
In conclusion, these things were pretty tasty. Toasted on the outside, mushy on the inside, and made better with hot sauce. The best part is you don't even have to be in lockup to enjoy one.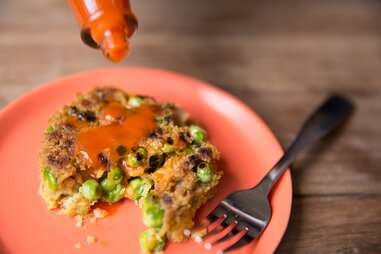 Chang's Pea Fritters

Yield: 4
INGREDIENTS:
1 bag (9.75 ounces) Fritos original corn chips
1 cup cooked peas
1 tablespoon vegetable oil
Hot sauce
DIRECTIONS:
Poke a small hole in the Fritos bag to release the air, wrap the bag in a dish towel and stomp on it with feet until chips are broken up.
Pour ½ cup water into the bag and mix.
Transfer to a medium bowl, add peas, and mash with your hands until well-combined. Form into 4 patties.
Microwave on high for 2 minutes.
Heat oil in a nonstick skillet over medium-high heat. Gently place patties in the pan and fry until brown on the bottom, 2 to 3 minutes. Flip and brown the other side of patties.
Enjoy warm with hot sauce.