The Pinecone Cheeseball Is Here to Win Your Holiday Party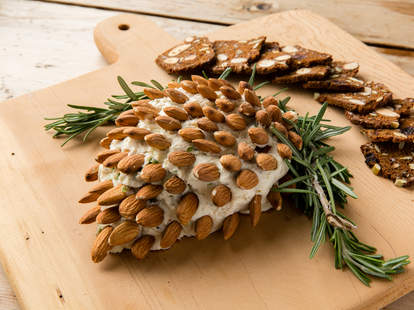 Pinecones are great for decorating your home, but you know what they're terrible for? Eating. Unless you're really into chewing wood and cutting up the inside of your mouth. In which case, um, good for you.
For the rest of us, this cheesy, nutty "pinecone" lets you live out your fantasy (assuming you're weird) of eating a pinecone and having the coolest-looking appetizer on the holiday table. Even better, it's super easy to make, and makes you look way artsier than a person who fantasizes about eating coniferous reproductive structures has any right to be.
INGREDIENTS:
1 8-ounce package cream cheese
1 4-ounce package goat cheese
3 strips of bacon, cooked until well done and crumbled
1 tablespoon scallions
1 teaspoon rosemary, finely chopped
⅛ teaspoon pepper
1¼ cup whole almonds, toasted
Fresh rosemary sprigs for garnish
Crackers or toast for serving
DIRECTIONS:
Combine cream cheese and goat cheese and mix until smooth… preferably in a food processor or blender. A bowl, a sturdy spoon, and some elbow grease will do the trick if you have neither.
Stir in the cooked bacon, scallions, rosemary, and pepper. Cover and chill overnight if possible. But give it at least two hours.
Once it's cool, shape the cheese mixture into an oval pinecone shape on serving plate.
Starting at the narrow end, place almonds into the cheese mixture at a slight angle to form rows.
Garnish with rosemary twigs to resemble pine needles (or swipe some greens from your neighbor's wreath, if you're still thinking about eating trees).
Serve with crackers or toast. Or pinecones. Nobody's judging.
Sign up here for our daily Thrillist email, and get your fix of the best in food/drink/fun.
Melissa Locker is a writer in New York and only eats marshmallow Peeps. Follow her on Twitter @woolyknickers but don't follow her in real life.