Cheeseburger Onion Ring Bites Are What Dreams Are Made Of
Cole Saladino/Thrillist
Cole Saladino/Thrillist
There are many ways to eat a burger and onion rings, but none are as efficient as this. Eliminate the need for extra plates (and extra bites) by stuffing the cheese inside the burger meat, the burger meat inside the onion ring, and then coating and frying the whole dang thing.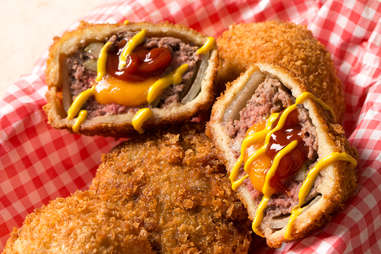 Cheeseburger Onion Ring Bites Recipe
Total Time: 30 minutes
Yield: 10-12
INGREDIENTS:
2 quarts vegetable oil for frying
2 medium yellow onions
1 pound ground beef
1 pickle, finely chopped
1 teaspoon kosher salt
½ teaspoon ground black pepper
10-12 cubes cheddar cheese
2 cups flour
4 eggs, beaten
4 cups panko breadcrumbs
Ketchup and mustard for serving (optional)
DIRECTIONS:
Preheat oil to 350℉ in a deep fryer or heavy-bottomed pot fitted with an oil thermometer.
Slice onions crosswise into 1-inch rounds, discard centers and peels, separate rings and lay them flat on a cutting board.
In a medium bowl, add beef, pickle, salt, and pepper; mix with your hands until just combined. Press beef into each onion ring, filling them halfway. Stick a cube of cheese in the center of each ring, fill the rest of the way with more beef. Level them off so the sides are flat.
Place flour in one shallow bowl, eggs in another, and panko in another. Dredge patties in the flour, then eggs, then panko, coating thoroughly.
Fry 2-3 at a time for 4 minutes, flipping them halfway. Transfer to a wire rack to drain. Serve immediately with ketchup and mustard.