Cheetos waffles are part of this highly unbalanced breakfast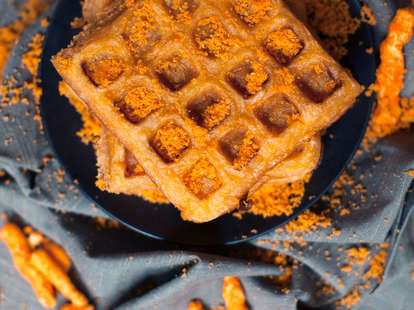 Drew Swantak
Drew Swantak
Cheetos for breakfast? Yes. And it's about time. Turns out, when crushed into fine crumbs, those crunchy little suckers make a great cornmeal batter, which makes light, fluffy, and cheesy waffles.
Yeah, they may be hazmat-orange, but so is lots of great stuff, like totally delicious poison orange slime, and, um, oranges. It's the kind of meal best eaten with reckless abandon, particularly with plenty of maple syrup and even more Cheetos. Don't think, just eat.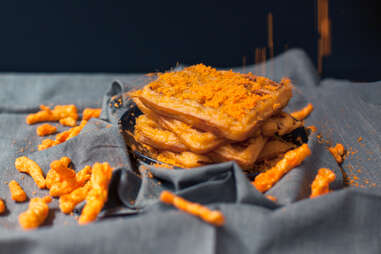 Cheetos Waffles Recipe
Total Time: 35 minutes
Yield: 4
INGREDIENTS:
2 cups crunchy Cheetos
1/4 cup all-purpose flour
1/4 cup cornstarch
1/2 teaspoon salt
1/2 teaspoon baking powder
1/4 teaspoon baking soda
3/4 cup buttermilk
1/4 cup milk
6 tablespoons vegetable oil
1 large egg, separated
1 tablespoon sugar
DIRECTIONS:
Preheat oven to 200°F and heat the waffle iron.
Pulse Cheetos in a food processor until crumbly.
Mix a 1/2 cup of the Cheetos crumbs with flour, cornstarch, salt, baking powder, and baking soda in a medium bowl.
Mix the buttermilk, milk, oil, and egg yolk in another medium bowl.
In a small bowl, beat the egg white with an electric hand mixer until soft peaks form. Sprinkle in the sugar and continue to beat until the peaks are firm.
Pour buttermilk mixture into dry ingredients and whisk until just mixed. Drop whipped egg white onto the batter and gently fold in with a spatula until just incorporated.
Fill the hot waffle iron and cook until the waffle is crisp, following the manufacturer's instructions for timing. Set the finished waffle directly on the oven rack to keep it warm and crisp while you make the rest (do not stack them).
Remove waffles from the oven and sprinkle remaining Cheetos crumbs on top.