Chef Marcus Samuelsson Whips Up an Epic Picnic Basket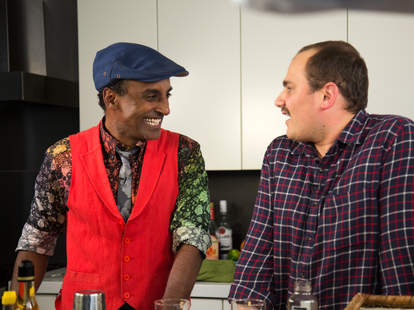 Celebrity chef Marcus Samuelsson (who you may know from a little show called Chopped) stopped by our test kitchen and shared why tea and pimento cheese are staples of his picnic basket. Check out the recipe for his watermelon and heirloom tomato salad, as well as some cocktails, below.
See Marcus at the Pure Leaf Tea House Collection's Traveling Tea House in NYC on April 29th from 11am-6pm. If you can't make it on the 29th, the Traveling Tea House will be open on Saturday, April 30th from 9am-9pm as well.
Watermelon and Heirloom Tomato Salad With Blackberry Tea Vinaigrette and Pimento Cheese
Total Time: 20 minutes
Yield: 4 servings
INGREDIENTS:
1 teaspoon soy sauce
½ teaspoon fish sauce
½ teaspoon brown sugar
2 tablespoons olive oil
2 tablespoons Pure Leaf Tea House Collection Wild Blackberry & Sage
½ tablespoon white wine vinegar
2 red peppers, charred and chopped
½ habanero pepper, pureed
½ pound cream cheese, softened
1 cup mayonnaise
Hot sauce, to taste
2 teaspoons paprika
Finely ground white pepper, to taste
½ cup bread-and-butter pickles, finely chopped
2 pounds sharp cheddar cheese, grated
Sugar, to taste
3 pieces of watermelon, cut into 1-inch pieces
2 heirloom tomatoes, cut into 1-inch pieces
1 scallion, roughly chopped
4 leaves of mint, ripped
1 sprig of cilantro, roughly chopped
1 tablespoon peanuts, roughly chopped
DIRECTIONS:
For the vinaigrette: Whisk soy sauce, fish sauce, brown sugar, olive oil, Blackberry and Sage Pure Leaf Tea, and white wine vinegar together in a small bowl.
For the pimento cheese: In a stand mixer using a paddle attachment, beat pureed habanero pepper, cream cheese, mayonnaise, hot sauce, paprika, white pepper, pickles, and cheddar cheese. Whip until incorporated and creamy. Fold in chopped peppers. Adjust seasoning to taste. Keep refrigerated.
For the salad: Combine the watermelon, tomato, scallion, mint, and cilantro in a medium bowl. Gently toss with vinaigrette. Smear several teaspoons of the pimento cheese on a plate. Place the watermelon salad on top of the smear. Crumble the peanuts on top of the salad.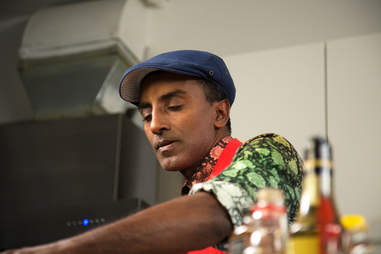 Calen Cooper/Thrillist
Pure Blackberry Smash
Total Time: 10 minutes
Yield: 1
INGREDIENTS:
4 muddled blackberries
1 ounce thyme simple syrup
4 ounces Pure Leaf Tea House Collection Wild Blackberry & Sage
½ ounce lemon juice
3 ounces sparkling water or ginger ale
1 ounce bourbon
DIRECTIONS:
Combine all ingredients in a large shaker
Shake and double strain over fresh ice
Garnish with a skewer of fresh blackberries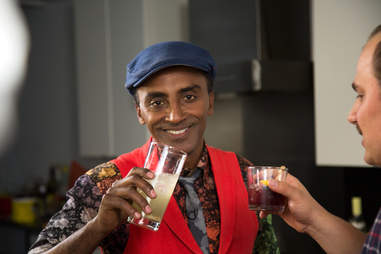 Calen Cooper/Thrillist
Apple Ginger Summer Punch
Total Time: 15 minutes
Yield: 8 servings
INGREDIENTS:
2 cups ice
1 2-inch piece of ginger, peeled and chopped
1 cup Pure Leaf Tea House Collection Fuji Apple & Ginger
Juice of 2 limes
4 kaffir lime leaves
1 cup sparkling water
1 cup vodka
1 lime, cut into 6 wedges
DIRECTIONS:
Combine the ice and ginger in a blender and crush
Divide between 6 glasses
Place the glasses in the freezer for 10 minutes
In a pitcher, combine the tea, lime juice, lime leaves, vodka, and mineral water
Pour over the ice and garnish each cup with a lime wedge
Serve immediately