Chicken-Skin Tacos Are Even Better Than Fried Chicken
I should've declared myself a forward-thinking culinary genius back when I was a kid and only ate the peppery skin off of fried chicken. It's the most delicious part of the bird. The only time I even consider eating skinless chicken is with tacos, but even then I still miss that crunch and extra flavor. So, this time, I fried the skins under a bacon press and glued them onto tortillas using melted cheese. It's like an inverse Taco Bell gordita, but way better. I've finally one-upped my kid-chef skills.
Drew Swantak/Thrillist
Chicken-Skin Tacos Recipe
Total Time: 1½ hours
Yield: 8 tacos
INGREDIENTS:
8 boneless, skin-on chicken thighs (about 2 pounds)
2 garlic cloves, finely chopped
1 tablespoon vegetable oil
1 tablespoon ground cumin
1 teaspoon kosher salt
½ teaspoon freshly ground black pepper
8 (6-inch) flour tortillas
Jarred salsa verde, chopped white onions, sliced radishes, and cilantro, for serving
DIRECTIONS:
Prepare grill for medium-high heat. Remove skins from chicken thighs and set aside. Toss chicken meat with garlic, oil, cumin, salt, and pepper in a medium bowl. Grill chicken until cooked through and lightly charred, about 4 minutes per side. Transfer to a cutting board and let it rest 5 minutes before slicing.
Preheat the oven to 200℉.
Place 1 chicken skin flat on a nonstick skillet over medium-high heat. Sprinkle with salt and place a bacon press on top of it. Let cook until the bottom is browned and crisp, about 10 minutes. Remove the press, flip the chicken skin, return press, and cook until the other side is crisp, 6-8 minutes. 
Use a paper towel to soak up excess grease in the pan. Remove press, sprinkle Parmesan over the chicken skin, covering the whole surface area. Place a tortilla on top and return the press for just 1-2 minutes so the chicken skin sticks to the tortilla. Remove press and flip tortilla. Toast the other side for 30 seconds.
Gently fold the tortilla in half and keep warm in the oven while you make the rest of the tortillas.
To serve, fill each tortilla with 1 chopped chicken thigh, salsa, and toppings of your choice.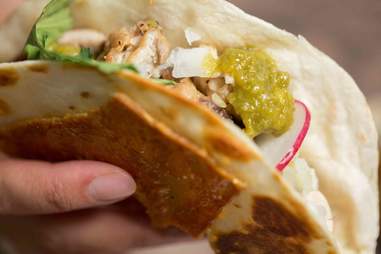 Drew Swantak/Thrillist
Drew Swantak/Thrillist