Chimichachos: nachos made with mini chimichangas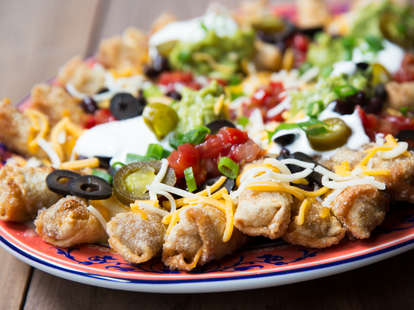 Don't get me wrong: tortilla chips are great. But when it comes to nachos, they can't even compare to mini chimichangas. These little bundles are stuffed with spicy, cheesy ground beef, so they guarantee each mouthful has all the nacho toppings I'm always trying to hoard anyway.
But don't just take my word for it. Fry up a batch, then load 'em with your other favorite toppings. And obviously don't chintz on the cheese just because there's some in each 'changa.
Chimichachos Recipe
Total Time: 1 hour, 30 minutes
Yield: 72
INGREDIENTS:
1 pound ground beef
1 medium onion, chopped
1 envelope taco seasoning
3 cups (12 ounces) shredded Monterey Jack cheese
1 cup sour cream
1 (7-ounce) can chopped green chilies, drained
1 (12-ounce) package wonton wrappers
2 quarts vegetable oil
2 cups (8 ounces) shredded cheddar cheese
1 cup guacamole
1 cup tomato salsa
1/2 cup sour cream
1/2 cup black beans or pinto beans
1/2 cup sliced black olives
1/4 cup sliced pickled jalapeños
DIRECTIONS:
In a large nonstick skillet, cook beef and onion over medium heat until meat is no longer pink, 5-6 minutes. Stir in taco seasoning and continue to cook for 5 minutes, stirring occasionally.
In a large bowl, combine cheese, sour cream, and chilies. Stir in beef mixture.
Fill a small bowl with water and place it by your work surface. Place a wonton wrapper on work surface in a diamond shape. Scoop 1 tablespoon of filling onto the center. Pick up both side-corners of the wrapper and loosely fold over filling. Fold bottom corner over filling and tuck it into a tight roll, like a burrito. Continue to roll toward the top corner. Dip a finger in the water and dab the top corner to moisten and seal. Repeat with remaining wrappers and filling. Keep wonton wrappers covered with a damp paper towel to avoid drying out.
Heat oil to 375°F in a deep fryer or heavy-bottomed pot. Preheat oven to 250°F.
Fry chimichangas, flipping occasionally, until golden brown, about 4 minutes. Drain on a wire rack or paper towels.
Arrange chimichangas on a large oven-safe platter and sprinkle cheddar cheese evenly on top. Place platter in the oven until cheese melts, about 5 minutes. Remove from oven and cover with remaining nacho toppings.