At last, soft pretzels with chocolate chip cookies baked inside them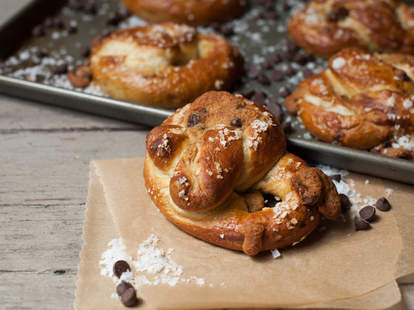 Giant soft pretzels are the stuff of baseball games and beer gardens and the spooky dens of evil geniuses who just happen to really like pretzels.
And now one of those madwomen (me) has shoved a chocolate chip cookie inside one: a gooey, sweet, buttery cookie with flecks of melty chocolate tucked inside the gentle, warm embrace of a big, soft, salty pretzel.
Two snacks are better than one. And three snacks are even better than that, but we'll get back to that, don't worry.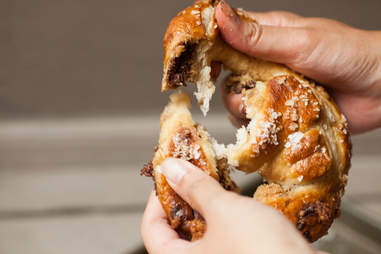 Drew Swantak
Chocolate Chip Cookie Pretzels Recipe
Total Time: 2 hours, 30 minutes
Yield: 8
INGREDIENTS:
1 cup warm water
2 teaspoons (1 package) active dry yeast
2 1/2 to 3 cups all-purpose flour
1 tablespoon sugar
1 1/2 teaspoons salt
2 cups chocolate chip cookie dough
1/4 cup baking soda
1 large egg, whisked with 2 tablespoons warm water
1/2 cup coarse sea salt or pretzel salt
DIRECTIONS:
Pour water into the bowl of a stand mixer (or a medium-sized bowl, if kneading by hand) and sprinkle yeast on top. Let stand for 3 minutes to bloom. Stir in 2 1/2 cups of flour, sugar, and salt with a spatula to form a shaggy dough.
Fit the mixer with dough hook attachment and knead on low speed for 5 minutes. If the dough is very sticky after 1 minute, add flour one tablespoon at a time until it pulls away from the bowl and forms a ball. Alternatively, knead the dough against a lightly floured counter until it's soft, slightly tacky, and can hold a ball shape, about 5-7 minutes.
Coat the inside of a large bowl with oil and place the ball of dough in it. Cover with oiled plastic wrap and let it rest somewhere warm until the dough rises to twice its size, about 1 hour.
On a lightly floured work surface, divide the dough into 8 equal pieces with a knife. Using a rolling pin and working with one piece at a time, roll the dough into a 15x2-inch slab. Roll 1/4 cup of cookie dough into a 1/2-inch-thick log and lay it down the center of the pretzel dough. Fold the pretzel dough ends in over the cookie dough and fold one length of pretzel dough over the cookie dough. Keep rolling until the seams meet and slightly overlap to seal. Gently roll the sealed log until it's 20 inches long. Lift the ends of the dough toward the far-end of your work surface and cross them twice to make a twist, then fold the twist back down over the bottom loop, pressing down gently, to form a pretzel. [PHOTOS BELOW]
Set the pretzel on a parchment-lined baking sheet and shape the rest of the pretzels. Cover the pretzels loosely with plastic wrap and set them aside to rise until puffy, about 20 minutes.
Preheat the oven to 425°F. Measure 8 cups of water into a large, deep pot and bring to a boil. Reduce to a low simmer and add baking soda.
Gently drop 2 or 3 pretzels at a time into the water. Boil for 30 seconds, flip and boil the other side for 30 seconds. Remove with a slotted spoon and return to the baking sheet.
Brush pretzels with egg wash and sprinkle with salt.
Bake until deep brown and glossy, 12 to 15 minutes.Transfer to a wire rack and let the pretzels cool slightly, but devour them while they're still warm.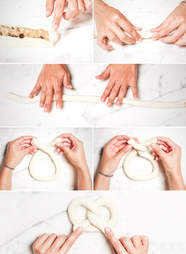 Drew Swantak