Grilled Cheese With Hot Pepper Jelly > Peanut Butter & Jelly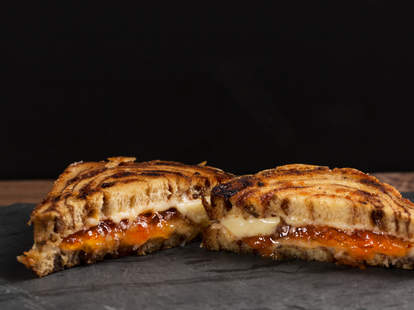 When the folks at Cinnabon decided to get into the pizza game last year, we initially winced. Not because the idea of a hybridized cinnamon roll/pizza monster wasn't appealing. But because we knew we could do better. Behold: the cinnamon roll grilled cheese, a savory take on the only thing your Mom knows how to cook, complete with melted sharp cheddar and hot pepper jelly. Your move, Cinnabon.
Drew Swantak/Thrillist
Cinnamon Bun Grilled Cheese Recipe
Total Time: 6 minutes
Yield: 1 sandwich
INGREDIENTS:
2 slices cinnamon raisin bread (Trader Joe's cinnamon roll bread is particularly good)
1 tablespoon unsalted butter, softened
4 ounces extra-sharp cheddar, grated
2 tablespoons hot pepper jelly
DIRECTIONS:
Heat a nonstick skillet over medium-low. Spread butter evenly on both sides of the bread slices.
Place bread on skillet and toast until golden, about 2 minutes. Flip and toast the other sides. Spread cheese on one slice and jelly on the other. When cheese melts, turn off heat and place one slice on top of the other, fillings facing in.
Slice diagonally and chow down.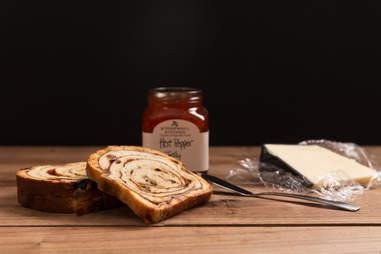 Drew Swantak/Thrillist