Nacho lasagna is Mexican Garfield's dream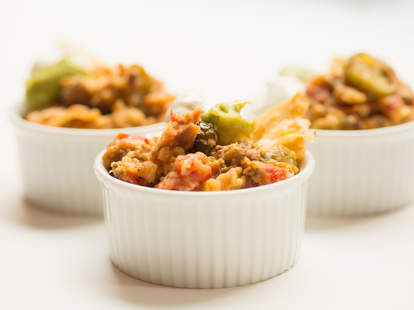 Because it's such a hassle to get all those toppings on one chip, I've created nacho lasagna: four layers of cheese-drenched chips fused together with seasoned ground beef, beans, and salsa. The beauty of this beast is that each bite tastes like those bottom-dweller nachos, the ones that inevitably soak up all the blended flavors and grease that drip down from the top of the heap. Never again will worries of even-cheese distribution ruin your lazy meal.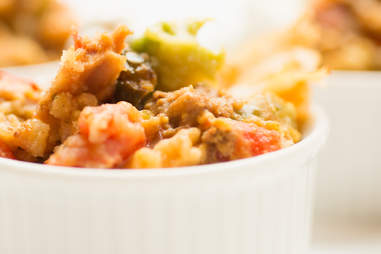 Drew Swantak
Slow Cooker Nachos Lasagna Recipe
Total Time: 2 hours, 20 minutes
Yield: 12 cups
INGREDIENTS:
1 tablespoon vegetable oil
1 medium onion, chopped
1 pound ground beef
1 package chili seasoning
1 (13-ounce) bag restaurant-style tortilla chips
4 cups shredded cheddar-Monterey Jack cheese blend
1 (16-ounce) can refried beans
12 ounces Velveeta, cut into 1/4-inch slices
1 (16-ounce) jar tomato salsa
1 (4-ounce) jar sliced jalapeño peppers, drained
DIRECTIONS:
Heat oil in a large heavy skillet over medium-high heat, and cook onions until translucent and starting to brown. Add beef and cook, breaking it up with a wooden spoon, until evenly brown. Drain excess fat. Add seasoning and cook for 1 minute. Remove from heat.
Place 5-6 tortilla chips in an even layer covering the bottom of the slow cooker. Sprinkle 1 cup shredded cheese on chips. Spread 1/3 of the beef mixture over the cheese, followed by 1/3 of the beans then 1/3 of the Velveeta, 1/3 of the salsa, and 1/3 of the jalapeños. Repeat layers twice. Finish with remaining tortilla chips and shredded cheese.
Set the slow cooker to high and cook for 2 hours, or 4 hours on the low setting.
Serve small scoops to eat with a fork or with more tortilla chips if you're feeling adventurous. Keep the rest warm in the slow cooker until ready for seconds... and thirds... and fourths.