How to Make Croissant Pizzas With Store-Bought Frozen Puff Pastries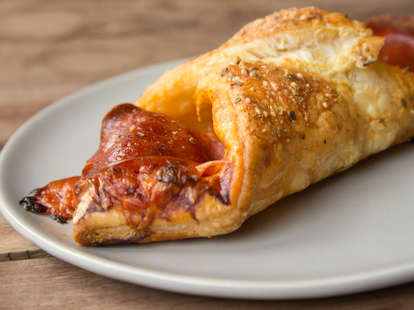 Cole Saladino/Thrillist
Cole Saladino/Thrillist
It may be stereotyping, but I'm guessing the French aren't too fond of Hot Pockets. Which is fine because it means if I ever stumble home at 3:19am with a man in a beret and a pencil mustache, I won't have to share any of my bacon cheese melts. I do believe in world peace, though, so I've created the American portable pizza that even our refined friends can get behind: croissant pizzas. Pepperidge Farm puff pastries wrap around sauce, melty cheese, and spicy pepperoni to create the hug heard around the world.
Croissant Pizza Recipe
Total Time: 1 hour, 15 minutes
Yield: 6
INGREDIENTS:
1 package Pepperidge Farm puff pastry
⅓ cup pizza sauce
1 cup shredded mozzarella
2 ounces sliced pepperoni
1 egg, whisked with 1 tablespoon water
¼ cup grated Parmesan cheese
1 teaspoon dried oregano
DIRECTIONS:
Unwrap the frozen puff pastry and lay the dough out on parchment paper. Using a pizza cutter or sharp knife, cut one panel off each slab (they are folded in thirds, so just cut along one fold). Stick those two loose panels side by side so they adhere together once they thaw. You should now have three slabs of dough. Let them thaw at room temperature for 40 minutes.
Preheat oven to 400°F.
Slice each slab of dough in half crosswise so you have 6 squares. Spread 1 tablespoon of pizza sauce in a diagonal line across each square. Sprinkle 2 tablespoons cheese over the sauce. Top with three slices of pepperoni, and a bit more cheese for good measure. Fold the un-sauced corners in over the filling. Brush tops with egg wash and sprinkle with Parmesan and oregano.
Bake for 20 to 25 minutes, until croissants are puffed and golden brown.