The Cubano Corn Dog is basically a deep-fried Cuban sandwich on a stick
The Cuban sandwich, that beautiful medley of pork, more pork, Swiss, and pickles that most scholars credit with ending the Cold War, has always suffered from two major problems -- it's not deep-fried or attached to a stick. So I took care of that.
Like any good sandwich, each bite includes every bit of what's on offer, especially if you touch it up with a bit of cold mustard to provide a nifty foil to the corn-Cubano's just-out-the-fryer temp. "Tip for pro-type people", as they say on the Internet: throw out a little extra mayo, or, alternately, a lot of extra mayo, and give each bite a good solid dab before you take it down.
The process involves making meat jello, which was a first even for me and just caused Bill Cosby to make a goofy face, but it worked perfectly for getting the filling onto a stick and into that creamy batter. As the corn dogs fry, the high heat dissolves the gelatin right away, as if it were never there.
And in case you were wondering, yes, these suckers are how I got the job.
Viva la Cuba (on a stick).
Cubano Corn Dogs Recipe

Yield: 8
INGREDIENTS:
1 cup (6 ounces) leftover pulled pork
¾ cup (5 ounces) deli ham, cut into ¼-inch cubes
2 slices Swiss cheese, cut into ¼-inch squares
¼ cup mayonnaise
2 tablespoons dill relish
1 tablespoon Dijon mustard
¼ cup warm (not hot) water
¾ teaspoon unflavored gelatin
½ cup + 3 tablespoons all-purpose flour, divided
1 ½ cups cornmeal
2 tablespoons vegetable oil
1 ½ teaspoons baking powder
1 teaspoon sugar
¾ teaspoon salt
½ teaspoon baking soda
? teaspoon cayenne
2 large eggs
1 ¼ cups well-shaken buttermilk
2 quarts peanut oil
Yellow mustard for serving
Pickle spears for serving
8 (2-ounce) popsicle molds
8 wooden sticks
Deep-fat fryer OR 3-quart pot attached with an oil thermometer
DIRECTIONS:
Mix shredded pork and next five ingredients (through Dijon mustard) in a medium bowl. Dissolve gelatin in warm water, and add to pork mixture; stir until combined.
Fill popsicle molds with pork mixture, and insert a wooden stick into each one (if you don't have molds, skip down to the bottom for alternative instructions). Cover and chill in refrigerator overnight or at least 8 hours.
Whisk together cornmeal, ½ cup of the flour, vegetable oil, baking powder, sugar, salt, baking soda, and cayenne in a medium bowl. Add eggs and buttermilk; mix until smooth. Let stand for 10 minutes.
Meanwhile, heat peanut oil to 350°F in a deep-fat fryer or a deep 3-quart pot over medium-high heat.
Put remaining 3 tablespoons flour in a shallow dish. Unmold pork skewers, with a little help from a knife, and dredge each one in flour to coat, shaking off excess.
Stir batter to recombine and fill a tall drinking glass almost to the top with batter. Working with one at a time, submerge pork in glass and twirl to coat with batter. Allow excess batter to drip off. Slowly dip it into the oil and fry, flipping occasionally, until golden-brown, 10-12 minutes. You can fry 2-3 skewers at a time. Transfer to a wire rack to drain. Between batches, return oil to 350°F and refill the glass with batter.
Serve with mustard and pickle spears.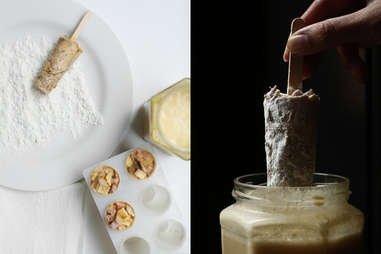 Don't have popsicle molds? Don't worry. Just do this.
To make pork skewers without popsicle molds, spread 2 feet of plastic wrap on a work surface and form half the pork mixture into a 12-by-1-inch lengthwise log along the wrap, 3 inches from the base. Gently pull the bottom of the film up and over the pork and slowly roll into a tube.
Once rolled tightly, twist one end tight and fasten with a rubber band while pushing air out toward the open end. Twist the other end shut to compress and fasten with a rubber band. Repeat with the other half of pork mixture. Refrigerate overnight or at least 8 hours. Once solidified, cut the pork rolls into 3-inch lengths (you should have 8), and skewer each one with wooden sticks.