It's August, and it's hot: the kind of hot where your legs are slicked to your desk chair and you sweated through your first shirt before you got into the office. So you let your computer go to sleep just so you could watch the beach screensaver and pretend you're in a chair with a cold dark & stormy in hand. No? Is that just me? Well, to try to fix my own productivity issues, I made an even more summery cocktail: a dark & stormy float. The combination of ice cream, sweet dark rum, and biting ginger beer is a decent reward after a long day of staring blankly at the computer screen.
Recommended Video
This Bubble Tea Is Set on Fire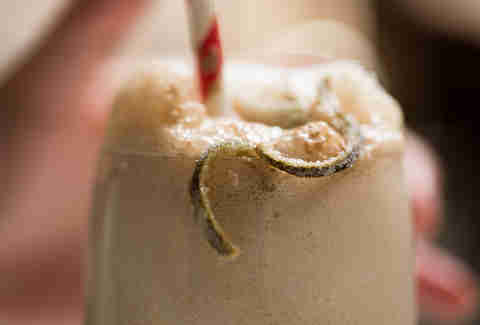 Dark & Stormy Float Recipe
Ingredients:
1 large lime
½ cup sugar, divided
2 scoops vanilla bean ice cream
2 ounces Gosling's Black Seal rum
3 ounces ginger beer
Directions:
Use a sharp vegetable peeler to remove zest from lime. Scrape bitter white pith from the back of peel with a small paring knife; discard pith. Cut peel into ¼-inch-thick strips 3 inches in length.
Combine ¼ cup sugar and ¼ cup water in a saucepan. Bring mixture to a boil over medium heat, stirring constantly until sugar dissolves. Add peel, cover, reduce heat, and simmer 3 minutes.
Strain through a sieve and transfer to a paper-towel lined plate. Separate the pieces of rind and allow to air-dry.
Place remaining ¼ cup of sugar and citrus strips in a Ziploc bag; toss well to coat.
Scoop ice cream into a large drinking glass. Add rum, then slowly pour ginger beer on top. Finish it off with several slices of candied lime.
Sign up here for our daily Thrillist email, and get your fix of the best in food/drink/fun.