Everything on this plate is made with beer
We asked NYC restaurateur David Burke to make us an original Thrillist recipe using beer, and he didn't disappoint. The chef put lager in the fried chicken batter and the bacon's maple glaze, and then topped everything off with beer foam. It looks fancy, he says, but simple enough to make at home.
For this "bacon and legs" dish, Burke used Samuel Adams Boston Lager for its rich taste and versatility. "It holds up to cooking and doesn't lose its flavor profile," he says.
He suggests topping the whole thing off with a sunny-side-up egg. And don't sweat it if you don't have a whipped cream dispenser to make the foam. You can just pour the beer into a lidded container, give it a good shake, then scoop the foam off. Or just swish it in your mouth a little before every bite -- you know, whatever works.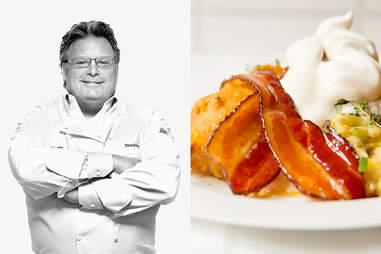 Drew Swantak 
David Burke's Beer Bacon and Legs Recipe
Total Time: 1 hour, 30 minutes
Yield: 4 servings
INGREDIENTS:
2 quarts vegetable oil
2 1/2 cups all-purpose flour
1 cup chopped green onions
2 teaspoons curry powder
2 teaspoons salt
1 teaspoon cayenne pepper
1 (12-ounce) bottle Samuel Adams Boston Lager
1 large egg yolk
3 tablespoons Dijon mustard
12 skin-on chicken drumsticks
1 pound thick-cut bacon
1 cup maple syrup
1/2 bottle (3/4 cup) Samuel Adams Boston Lager
2 tablespoons freshly ground black pepper
1 teaspoon salt
2 medium russet potatoes, peeled and diced
1 red bell pepper, diced
1 green bell pepper, diced
1 yellow onion, diced
1/2 head cauliflower, cut into small florets
3 sprigs of thyme, leaves picked
2 green onions, chopped
3 tablespoons olive oil
4 tablespoons (1/2 stick) butter
Salt and pepper to taste
1 (12-ounce) bottle Samuel Adams Boston Lager
2 egg whites
1 iSi charger (optional)
DIRECTIONS:
Heat oil to 315℉ in a deep-fat fryer or a large heavy-bottomed pot fitted with an oil thermometer. Preheat oven to 400℉.
In a large bowl, whisk together 2 cups flour, onions, curry powder, salt, and cayenne. Add beer, egg yolk, and mustard. Mix until just combined.
Place remaining 1/2 cup flour in a shallow dish and dredge 4 drumsticks in flour. Dip drumsticks in batter and fry for 15-20 minutes, until golden brown. Transfer to a wire rack or paper towels to drain. Repeat with remaining drumsticks in two batches.
During the second batch, make the bacon. Place bacon in an even layer on a rimmed baking sheet and cook in oven until crispy, about 20 minutes.
Combine maple syrup, beer, black pepper, and salt in a medium saucepan. Bring to a simmer over medium heat, and cook, stirring often, until it's thicker than syrup, about 20 minutes.
Start the cauliflower hash. Warm oil in a large skillet over medium-high heat until shimmering. Add potatoes and saute until browned, about 6 minutes. Reduce heat to medium, add onions; cook until soft. Add peppers and cauliflower; cook until soft, about 10 minutes. Add butter, remove from heat, stir in thyme and green onions.
When maple-beer glaze is ready, brush a thick layer over the bacon and bake until caramelized, 10 minutes.
While third batch of chicken cooks, pour egg whites and beer into an iSi whipped cream dispenser and load it with one charger of nitrous oxide. Shake well.
On each plate, scoop a straight line of hash across the middle. Place 3 drumsticks alongside the hash. Cross 3-4 strips of bacon over the chicken. Top with beer foam when serving.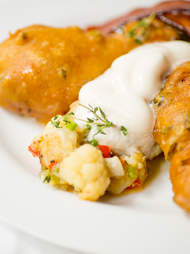 Drew Swantak